This Is How You Get Started In Robotics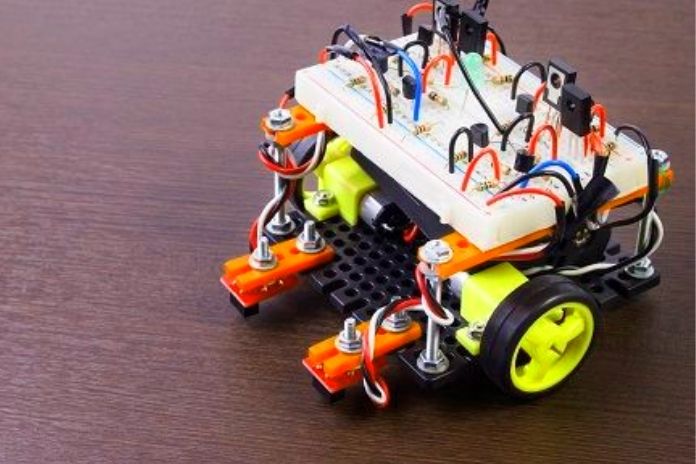 Anyone who wants to automate work processes relies on robots. Our experts know how small and medium-sized companies get started with robotics.
A robot does not replace any of your employees. So why is it still an asset for the select group of colleagues in your workforce? Because you want to automate monotonous work orders in your small or medium-sized company in the future.
For this challenge offer, you Robotics manufacturers and consultants offer solutions. Your innovative company wants to benefit from these solutions, but so far, automation by robots has seemed like a book with seven seals to you?
Why Should Small And Medium-Sized Businesses Use Robots?
Sure, first of all, as an entrepreneur, you always think about how you can withstand the pressure of competition and improve the quality of your work or products. Far from these, perhaps often too abstract, target formulations, tomorrow's business will again be about how unpopular night shifts can run without employees in the future, how repetitive and less complex work can be automated, or heavy and unwieldy work materials can be safely moved from A to B without sweating. The answer to these questions lies in modern robotics. In the context of automation, your colleague robot will take over these tasks in the future. These useful helpers have long since ceased to belong exclusively to high-end automation.
Small and medium-sized entrepreneurs need quickly adaptable, simple automation solutions. Robots must be easy to program and intuitive to use. Here, collaborative robot applications play their part in craft businesses because collaborative robots can be used without complex safety concepts. "The relieve the staff by taking on repetitive, unergonomic, laborious, or even risky tasks," "Employees can focus on their core competencies and drive key processes forward. As a result, you are more satisfied and motivated," continues the robotics expert.
Rising Wage Costs And A Shortage Of Skilled Workers
One company that has already equipped many customers with collaborative robots is Universal Robots (UR). In addition to competition from low-wage countries and rising wage costs, the shortage of skilled workers is also increasingly causing problems for small and medium-sized companies. UR cobots relieve the workforce physically. "This increases the attractiveness as an employer – and sends a strong signal to qualified specialists,"
Also, Igus has found appropriate answers to the needs of their customers: "Companies look for cost-effective automation solutions that we in the development of articulated robots, Delta robots and Cartesian robots offer,"
It gives further arguments why it is worthwhile for SMEs to get started with robotics: "Operation becomes easier, and you do not necessarily need external software professionals." In addition, "larger robots and cobots are becoming more and more cost-effective, which means that they pay for themselves more quickly."
For Which Applications Are Entry-Level Models Suitable?
"There is no general answer to this question," However, these robots are often models that do not require a robot programmer. Users from small and medium-sized companies should use non-industrial requirement profiles as their yardstick to start robotics. "Robots are enough for applications which do not prove a 1/100 millimeter precision", In addition, the cycle time is not primarily important for entry-level models.
Robots make sense in the context of low-cost automation, especially in equipment manufacturing and in the production area. "Everywhere where manually tedious or error-prone processes can be easily automated. This can be end-of-the-line applications such as checking and sorting components, adhesive applications, layer thickness measurements or even 'picking up the box'".
Cobots are particularly interesting for beginners. They are less complex. In addition, the user can usually program and install it himself. "Cobots show their strengths, for example, in assembly applications in which they can be used without major protective measures,".
What Do Beginners Have To Consider When Choosing A Robot?
All experts agree on this question. An intensive, joint analysis is always required in advance. The following catalog of questions applies:
Which application should be automated?
How much is there?
Do process speed and cycle times have to be taken into account?
Which space requirements and which positioning of the robot is planned?
Can the application be expanded afterward?
How far does the cobot or robot have to reach into the machine?
Which loads does the robot have to move?
How were employees made aware of their colleague robots?
"Cobots are ideal for applications with a range of up to 1,300 millimeters and parts weighing less than 16 kilograms," continues Andrea Alboni. When it comes to the user experience, the robot or cobot should not have any too difficult requirements. "Due to the increasingly complex automation, providing such intuitive instruments is becoming increasingly important," he advises customers to pay close attention to the service and support provided by the respective robot manufacturer. Which services are included in the purchase, programming, integration, and commissioning?
What Support Do Customers Get From Robot Manufacturers?
Anyone who shows interest in a cobot at Universal Robots can arrange a consultation and a cobot demo. The demo shows the customer how easy it is to operate collaborative UR ​​robots." It is also helpful to contact a local sales partner. "These offer extensive information and explain which applications the lightweight robots are particularly suitable for and how they can significantly enrich production,"
At ABB Automation, medium-sized companies receive assistance on an online platform for the practical implementation of automation solutions and collaborative robotics. Webinars supplement the offer with ABB experts as well as consultation appointments on automation potential.
At Rethink Robotics, too, customers can look forward to " feasibility tests, an extensive training concept, total solutions by integrators in their company networks, and risk assessment by integrators in their company network."
According to the "Build or Buy" idea, it is possible at Igus to buy only the individual robotics components or to order a ready-made solution. "The online marketplace RBTX is particularly helpful here; it simply brings providers and users of low-cost robotics together,", Igus has set up a "Customer Testing Area" for this. The implementation of the planned automation can be tested and optimized here. "It gets even better if he then sends the part to be moved to Igus for further experiments".
About Author