Best Cell Phones For Seniors (2021): How It Can Make A Senior's Daily Life Easier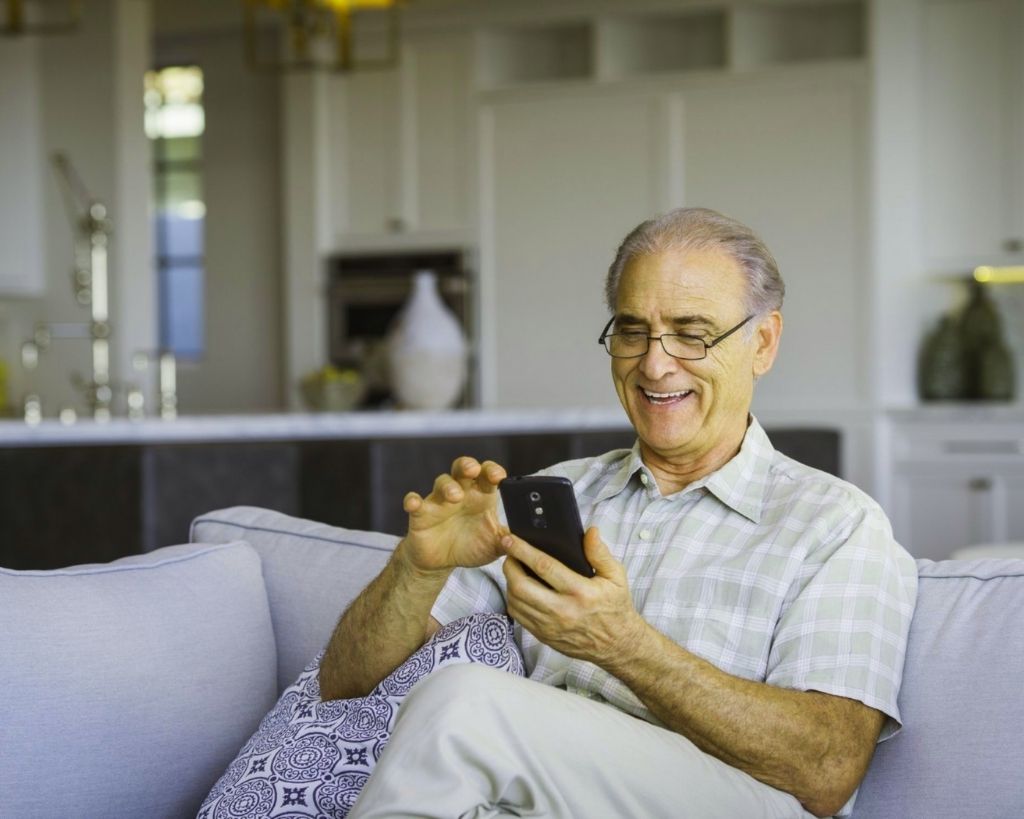 If you are new to the world of smartphones or want to see more clearly the offers that come your way, then this article should help you find the cell phone that will meet your needs.
Smartphones are incredibly popular devices, but their immense capacity has made them increasingly complex for novices. What may seem second nature to young people can be very confusing for a generation that grew up before the advent of the Internet.
Unfortunately, the vast majority of the market is aimed at experienced users. So you have to look in detail if you want a phone that is truly suitable for the older generations. A smartphone may always be the answer, but a basic cell phone may be more appropriate if calls and texts remain the priority.
In this comparison, we take a detailed look at a smartphone and how it can make a senior's daily life easier. We then suggest some buying advice.
Nokia 2720 Flip – With The Most Features
Most
Classic design

WhatsApp support

Emergency button
The lessers
The Nokia 2720 Flip is one of the most popular Nokia cell phones, resurrecting the iconic flip phone. With this Nokia, you have a fairly modern feature set. 4G is supported and some basic apps, which means you can still use Google Maps, Facebook, WhatsApp. There is even an application for the Google Assistant, with a dedicated button to activate it; you can configure it to act as an emergency button. It allows you to quickly send a text to specific contacts in the event of a problem.
Nokia indicates an autonomy of 28 days; it also integrates Bluetooth, a headphone jack, a photosensor, and 4 GB of internal storage with support for microSD cards up to 32 GB.
Also Read: How Your Cell Phone Runs As Long As Possible In Winter
Doro 8080 – The Best Smartphone
Most
Charging stand included

Compatible devices

Assisted user experience
The lessers
High price

Disappointing photosensors

Loudspeaker a little below
The Doro 8080 is a phone with a modified Android smartphone experience (nicknamed "Eva"), allowing you to navigate the user interface using your voice, with the help of the Google Assistant (if you so wish. wish).
The 8080 has a 720p HD screen, a dual rear 16 and 5 MP sensor and a docking station for easy charging and using the speakerphone hands-free.
It also features the Doro response button, which, combined with a complementary application, instantly alerts the chosen contacts in an emergency with a simple push.
Moto G9 Play – At The Best Value For Money
Most
Affordable

Superb autonomy

Smooth Android user experience
The lessers
Plastic design

Poorly performing photosensors

Dull screen
Like the Doro 8080, the Moto G9 Play runs on Google's Android software. The G9 Play is the one for you if you think you have enough autonomy to make calls, send messages and download apps.
Android is pretty straightforward and shouldn't be too much of a problem. Its greatest strength is its huge 5000mAh battery, which provides exceptional longevity.
The screen is large (6.5 inches) but a bit lacklustre, while the price is hard to fault.
iPhone SE (2020) – Best iPhone For Seniors
Most
Excellent performance

Decent main camera

Software support
The lessers
Outdated design

Poor autonomy

Disappointing screen
The 2020 iPhone SE has a larger screen than its predecessor; it is efficient, fluid, and equipped with a good photosensor (12 Mp).
This is one of Apple's best value for money iPhones ever made. Let's not forget that it is compatible with wireless charging and waterproof (IP67 certified, it withstands a 30-minute immersion at a depth of one meter).
TTfone Lunar TT750 – To The Best Assistive Features
Most
Very affordable

Great accessibility features

Emergency button
The lessers
No 3G or connection

Slightly weak audio
The TTFone Lunar TT750 might not be the first cell phone that will come to mind, but the company has made a name for itself in recent years with inexpensive products primarily aimed at seniors and the visually impaired.
The large characters evidence this on the keyboard, which make them easy to distinguish, and the generous size of the characters on the screen.
The TT750 also features a high volume speakerphone, so you don't miss any messages and calls, as well as a programmable SOS emergency button in the event of a fall or other owner accident.
Thanks to its clamshell design, the TT750 fits easily into bags and pockets, and it's charging station means you don't have to mess around with cables to recharge the battery.
Alcatel 2019G – The Easiest To Use
Most
Compact

Easy to use

4G

Light

Call quality
The lessers
Small screen

Lower battery than its predecessor

Difficult loading
Alcatel has gone for a very traditional design for its 2019G phone. A smaller screen gives way to a large keypad.
It supports older T9 SMS, but we believe it is more suitable for users who prefer to make calls. It also includes an SOS button, a 3.2 MP rear photosensor for photos and videos.
Smartphones For Seniors: What Is A Smartphone?
A smartphone is essentially a mobile phone connected to the web. It allows you to send and receive emails, browse the Net and install applications.
These apps provide easy access to information such as news, sports and weather, and games to relax. All smartphones also serve as media players; you can listen to music, audiobooks, watch movies and videos, and download new content from the Store, accessible from the smartphone. They also integrate photosensors.
Smartphones have dedicated operating systems, the vast majority of which work either under Apple's iOS or Google's Android. They have much larger screens than regular mobile phones (or basic phones), often over six inches.
They connect to the Internet through cellular technology or WiFi. Cellular technology requires a SIM card with a data allowance, which you have to pay for in the same way as for calls and texts. However, when you are within range of a wireless network (WiFi) for which you know the password (or public without a password), your smartphone transparently selects the free option.
How To Choose A Cell Phone For Seniors?
Now that you are convinced of the benefits of joining the smartphone world, here are some tips for looking for. It's always best to test a phone in the Store to get an idea of ​​its future use.
The breadth of choice can be overwhelming, but take your time before you jump in as this is a purchase you will only want to make once every two or three years.
A Simple Interface
Due to the huge number of smartphone features, using them can seem complicated. Look for a smartphone that offers simple, easy-to-use and intuitive navigation. Think about a few key things you can do: make a call, send an email, find a phone number, etc. Don't be afraid to ask for advice.
Also, spend some time using the onscreen keyboard; most react to key presses by making the letter or number typed larger. This can be a big help in usability, but not all interfaces are designed the same.
Apple products are renowned for their ease of use, and the iPhone is generally a very simple and intuitive device. However, this comes at a certain cost compared to other Android models.
Moreover, these are available in more shapes, sizes and prices. It is important to note that each phone may have different versions of the Android interface, generally referred to as "skins" or "launchers". By trying before you buy, you will get a feel for how easy each manufacturer's systems are to use and whether they are right for you.
If you find a touchscreen interface difficult to learn, a device that comes with a physical keyboard or that supports a compatible accessory may be the way to go.
A Large Screen
These days, almost all smartphones have a screen of at least 5 inches. High-end devices, such as the Android-based Samsung Galaxy S21, have screens that exceed 6 inches. The larger it is, the more it costs, and the battery drains faster.
Also, it should be remembered that not all screens are created equal. The display of a relatively small device may be sharper than that of larger models. So it is important, once again, to try before you buy.
Easy To Carry
Because smartphones are packed with so many features, they have to include a big battery and a powerful processor. If you add a large screen, a smartphone can quickly become bulky in the eyes of some users.
A smartphone with a large screen allows better visibility, but it will be of little use if it is too heavy to carry.
About Author