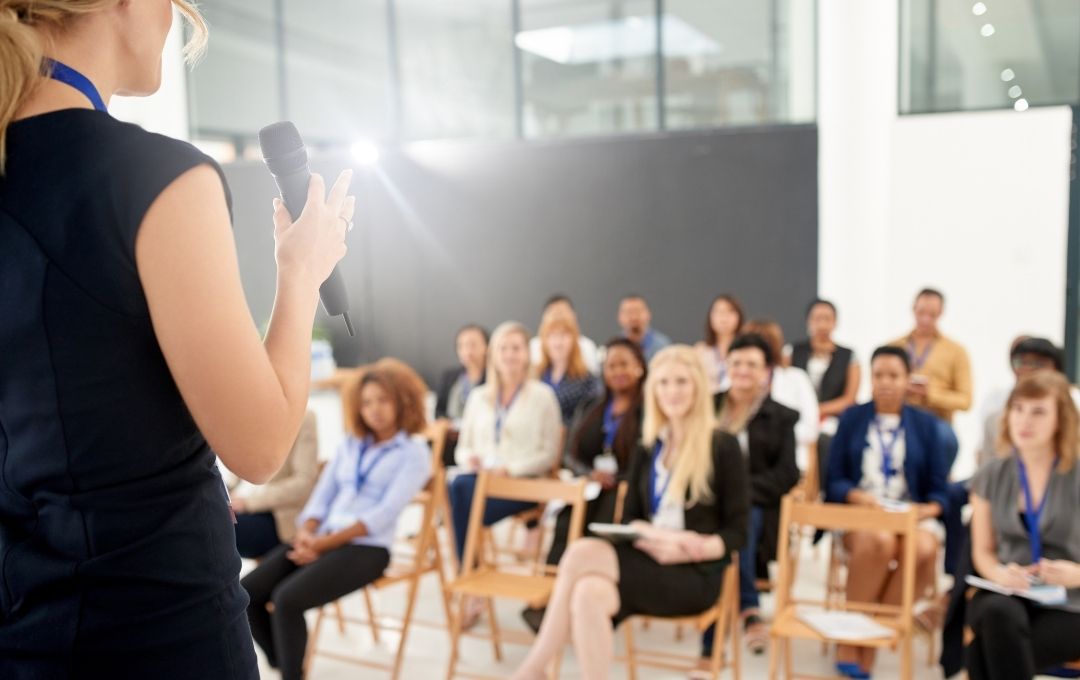 That feeling, those nerves at the moment when it's time to go on stage and start speak in public in front of a crowd of strangers. Yes, that tickle in the throat, that tremor in the pulse. We all know it. It is said that the fear of public speaking is something that most people in the world share. However, there are techniques that can solve our stage fright or at least hide it without anyone knowing what we really feel and learn how to speak in public.
Here are some of the tricks to  improve your public speaking skills :
make a good introduction
Make a good introduction. If you want to gain the attention of your audience, you must make a good first impression. You must think positive. We all believe that if we make a fool of ourselves, stutter or lose the thread in front of the audience they will laugh at us. Forget all those clichés. Your fear is shared, therefore most of the people who are going to be sitting in front of you will understand what you are going through.
Introduce yourself to speak in public, talk about yourself in a couple of sentences. Say who you are, why you are there and what you intend to teach them with your speech.

Find a clever phrase that captivates their attention. It's the perfect way to break the ice.

If you are one of those who have a very bad time during the first five minutes, tell the same thing that you would say in those first sentences, but with a video, in this way you can relax during the first minutes and this will help you see that the public is there because he wants.
Prepare the presentation
It is certainly one of the most important points. If you prepare the speech well you will not suffer that fear of forgetting what you want to say. It will help you rehearse and visualize yourself in front of your next audience.
control panic attacks
Avoid going into panic attacks. It is common that you suddenly run out of words and start to suffer for it. Pause, calm down, take a breath, drink water and smile. Then resume your speech and you will see how everything returns to normal.
Your words are not carried away by the wind; not in this case, so never say "what nerves" before you start talking. Why not? Because what the audience will do once you start talking is focus on your nerves and not on your words. Be sure of yourself and show that security in front of your audience.
Use smart pauses
You can make an impact by using smart pauses that will help encourage attention, project confidence and make you have to use fewer fillers.
be concise
Don't roll up Be short and concise. You have to be clear about what you want to express and say it in the most summarized and clear way you can. In general, people are very easily distracted and, if you go around the bush, your audience will start to evade and that will make you more and more nervous.
Good attitude
Smile, it's the key to everything! As we have said before, people are there because they want to so don't worry about anything. They won't mind if you're nervous as long as they're interested in what you're saying. Smiling helps to connect with the public and makes them see that they are there to learn and enjoy with you.
Also Read : Types Of Leadership Do You Consider Yourself Boss or Leader?
About Author