Social Networks: How To Create An Editorial Calendar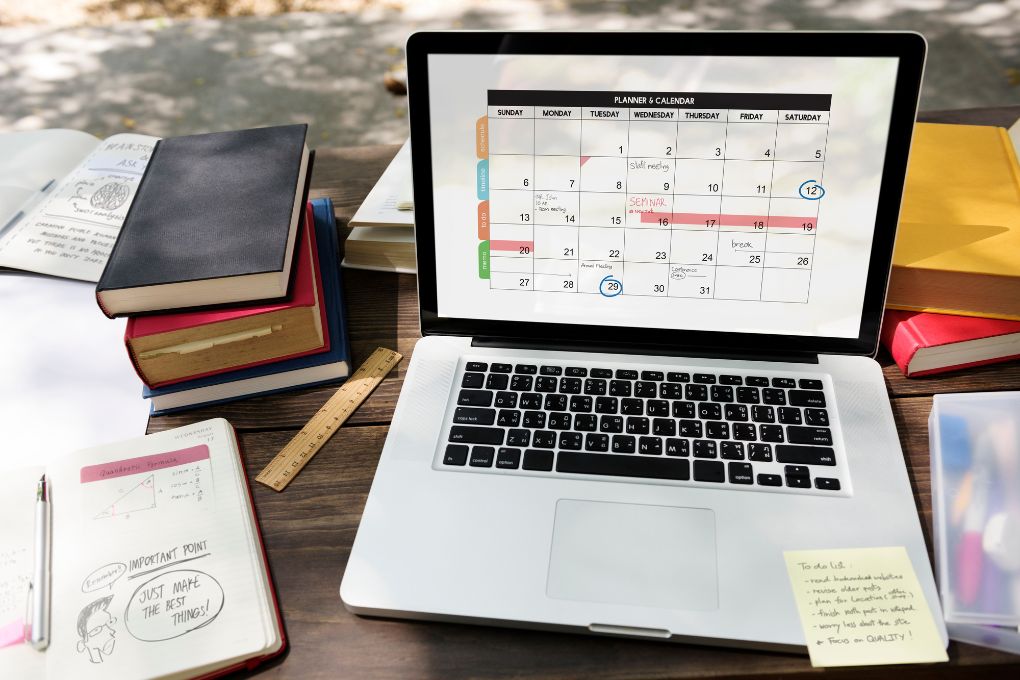 That is the question ! Are you looking to ensure regularity, consistency and quality in your communication content? The editorial calendar is essential to you. We explain everything to you! 
Because behind the publications on social networks hides a real organization . And yes ! Posting on social networks does not happen in two or three magic wands. 
The success of a communication approach certainly depends on the tool, but not only…it's your editorial strategy that will make the difference.
Organizing your content and publications on social networks, do you dream of it? Don't panic, you've come to the right place! 
In this article, we explain everything about the editorial calendar, the essential tool of any communication agency and we present the different steps to organize your publications using this tool. 
The editorial calendar, for what?
Preparing your publications at the last moment, from your phone, patiently waiting for the right time to publish: it's not a terrible technique. And fortunately, tools have existed for a long time to prepare posts in advance and schedule them to be published at the right time. Awesome, right?
Publishing at the right time, captivating, engaging the community cannot be improvised. The important thing is to plan your publications to give you long-term visibility of your communication. 
And this is where the famous editorial calendar, an essential tool for all communication, comes into play.
The editorial calendar is a planning tool that allows you to distribute tasks (if necessary) according to everyone's skills over a given period. In other words, it matches the agenda of your posts. 
To do this, it obviously relies on your editorial strategy that you will have defined upstream . 
Organization and planning are the key words of the editorial calendar. And we're sure that's all you're looking for, isn't it? 
Now that you know that the editorial calendar will soon become your best friend, we'll walk you through the different steps to get organized with the editorial calendar.  Let's go ! 
10 steps to organize your communication well thanks to the editorial calendar
1. Listen and discuss, and set your goals
The content marketing strategy or your editorial strategy must be your starting point , and you must stick to it in your communication actions. 
You must therefore set your communication objectives. Ask yourself questions. What do you want to get?
Do you want to create a link with your communities?
Do you want to generate business leads ?
Do you want to attract new visitors to your networks and/or website?
So think about the " why " you want to publish and the " for whom " you communicate (personas), which will lead you to the questions " when", " what" " and " where ". 
To help you, you can talk around you: your entourage, your collaborators, your customers to collect new ideas.
2. Write down your ideas
To your keyboards (to your pencils, it works too)! 
List all your content ideas: 
Your ideas in relation to your activity, your sector
Important dates related to your activity
Scheduled commercial actions
The animations you make
Brand events: anniversary, product launch
The arrival dates of new collections
Dates and events taking place in your city
In short, absolutely write down all your ideas! Be careful to offer ideas that correspond to your audience . Your content must be varied and correspond to your contacts, your leads and your customers. 
Each profile must be identified in the editorial line of your social networks and have relevant associated content. 
3. Identify content themes
Now that your ideas in bulk are noted, you need to think about content themes to organize, classify and sort all of this. 
By theme we mean: 
News
Product promotion: novelty
Event
Competition
About your brand
The list is long, it's up to you to find the themes that suit you best. 
4. Find topics for each theme
The themes now found, make way for the subjects. For each theme selected, you need to identify different topics that can be addressed. 
For example, for the "events" theme: 
Anniversary date: 1 year of your brand
New product launch
Participation in a fair
Chestnut events
5. Use chestnut trees
The chestnut trees are your allies!
Add to your list, holidays, events that come back every year, and even events related to your activity. 
We mean by event:
School holidays
Religious holidays
Commercial celebrations: Father's Day, Mother's Day, Valentine's Day
international days
Trade shows or other events related to your business.
In particular, you can find calendars on certain tools that mention all the important dates of the year. 
Do not miss these essentials which will be of great help to you in creating your communication. Bet on key times of the year to interact with your communities. Whether it is specific to your activity or more general, do not miss an opportunity to make your communities react. 
Beyond these recurring events, do not hesitate to add novelty by communicating in particular on the news. A good editorial calendar is one that adapts and evolves . It will sometimes happen that you enter relevant news for your communication and bounce back by shaking up your calendar. 
The fact of proposing news publications contributes to your credibility by showing your target that you are perfectly informed about the news that concerns your sector. 
6. Get inspired
We are not going to reinvent hot water, so take inspiration from what already exists. We insist on the word "inspiration", there is no question here of copying. Take the ideas that look like you and correspond to your audience and put them to your sauce. 
Complete your ideas with what inspires you. Look at what your competitors are doing, other brands in different industries, and the things that work and drive community engagement. 
You can look at what others are doing in terms of visuals, writing posts, themes or even subjects. 
7. Make your schedule
You have the content ideas, all you need to do is organize it all using the time markers of the editorial calendar. 
The editorial calendar allows you to have an overview , to be able to communicate the right message at the right time , and to anticipate your communication actions. 
The items we put in it: 
The type of content
Content theme
The target audience
The date of posting (deadlines)
The creation time
The place of publication (the platforms)
The writer
The status: "ideas", "to be sent for validation", "scheduled".
A comment space for each task
Primary and secondary keywords
To do this, you can use different tools: 
Google Sheets, the classic. A spreadsheet that offers you great flexibility in your organization and allows you to form a real dashboard.
Trello, for its visual side. The essential tool for managing projects, with task management in a very visual way through a system of cards on an intuitive board.
Hootsuite, the tool that makes it easy to plan your content on the networks from a single dashboard.
Spello helps you plan your publications and offers you an overview.
There are plenty of others: free, paid with more or less advanced features. It's up to you to find the one that suits you best. 
8. Create your visuals and content
Now that you know what and when to publish, you have to produce! Do not forget to decline the content according to the social network on which you publish, respecting the rules of format of text, computer graphics, image, video.
This is also the time to distribute tasks if different people need to be involved. This organization offers you the opportunity to take the time to produce QUALITY content, so grab it! 
Do not forget that behind the screen, your target who stops on your page, on your post, must be seduced! So be interesting before you are interested. 
This editorial calendar therefore makes it possible to optimize the writing of your content, but also that of the production of visuals. By anticipating and maximizing the time for creation, you guarantee the success of your community management and your social media strategy, at the same time. 
9. Schedule your posts
Programming for more tranquility and serenity , the best, right? 
Your content is ready. All that's left is to publish. Scheduling your content saves you time and consistency. As we often say, consistency is key! 
Don't forget that you post on social networks, so don't hesitate to engage in conversation with your community to create engagement and animation. 
10. Analyze your impact
Your content is published, yes, but it's not over. In a process of continuous improvement, you need to analyze your results. 
This analysis allows you to see that there are things that work better than others, that some of your content can be improved and that things can be reviewed to optimize your strategy. 
Also Read : Investing In Social Media With Linkedin
About Author