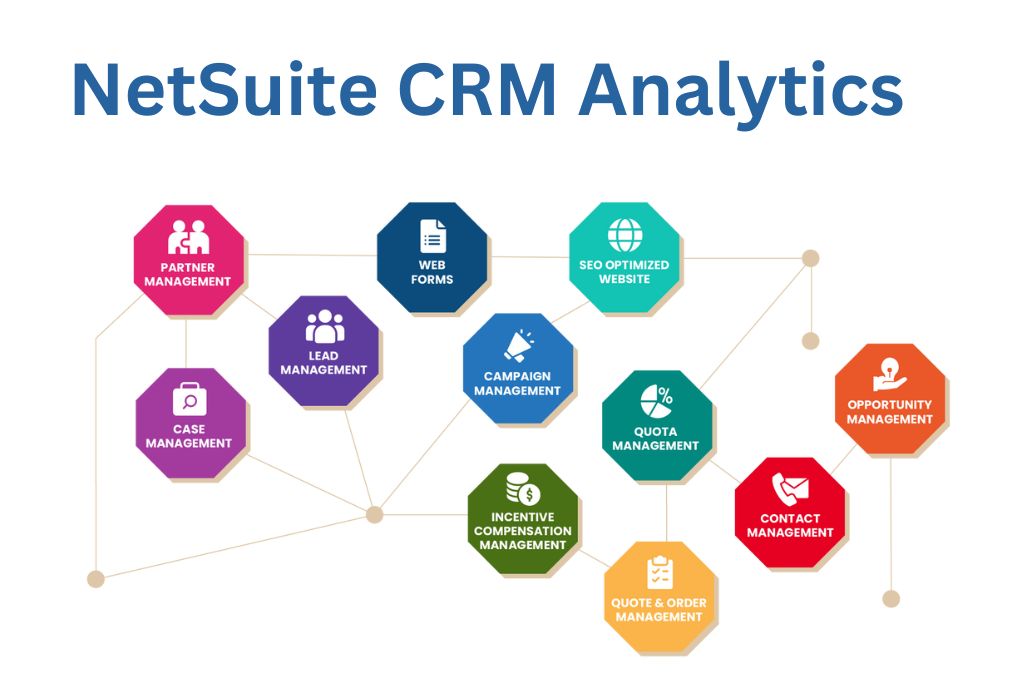 In today's dynamic business landscape, the power of data-driven decisions has transcended from being a mere advantage to an absolute necessity. As organizations strive to thrive in highly competitive markets, they recognize the unparalleled value of basing critical choices on insights derived from comprehensive data analysis. This is where NetSuite CRM emerges as a game-changer. NetSuite CRM, a robust customer relationship management platform, not only facilitates effective customer engagement but also serves as a powerful tool for harnessing the potential of data analytics. By amalgamating customer information and intricate data analysis, NetSuite CRM empowers businesses to navigate the complex terrain of decision-making with clarity and confidence.
The Power of Data Analytics in CRM
Data analytics has fundamentally transformed the way businesses engage with their customers. In the realm of customer relationship management (CRM), it has become a driving force behind informed decision-making and strategic planning. Analytics in CRM goes beyond the surface, delving deep into customer interactions, preferences, and behaviors. By harnessing data analytics, businesses gain the ability to decipher valuable patterns, identify emerging trends, and predict future customer actions. This empowers organizations to tailor their strategies, personalize customer experiences, and foster lasting relationships, all while staying ahead in an ever-evolving market landscape.
Understanding NetSuite CRM Analytics
NetSuite CRM takes the essence of data analytics and elevates it to unprecedented efficiency. This comprehensive CRM platform integrates cutting-edge analytics capabilities that allow businesses to gather, synthesize, and interpret customer data from various touchpoints across the customer journey. From initial lead acquisition to post-purchase interactions, NetSuite CRM seamlessly captures data that provides a holistic view of customer behavior and engagement. The platform's analytical prowess transforms raw data into actionable insights, enabling organizations to make well-informed decisions that resonate with their audience and fuel business growth. With NetSuite CRM, data becomes more than just numbers; it becomes a strategic asset that propels organizations toward data-driven success.
Key Metrics to Track in NetSuite CRM Analytics
Within NetSuite CRM analytics, organizations can unearth critical metrics to gain deeper insights into customer interactions and business performance. These metrics offer invaluable guidance, steering companies toward informed decisions. Customer Acquisition Cost (CAC) reveals the financial investment required to acquire new customers, guiding budget allocation. Customer Lifetime Value (CLV) assists in identifying high-value clients and informing retention strategies. The churn rate lays bare the attrition of customers, prompting interventions to enhance loyalty. Conversion Rates unveil the effectiveness of various touchpoints in driving desired actions. With NetSuite CRM analytics, these metrics become navigational beacons, guiding organizations through uncharted waters with clarity and precision.
Benefits of Harnessing NetSuite CRM Analytics
The advantages of embracing analytics within NetSuite CRM are multifaceted and ripple across every organization's operation. By dissecting customer data precisely, businesses can tailor their customer segmentation to specific demographics and preferences. This level of personalization powers targeted marketing campaigns that strike chords and inspire engagement. The ultimate result is a seamless, personalized customer experience that leaves lasting impressions. Analytics within NetSuite CRM also illuminates the path to optimized sales strategies, leveraging insights to refine lead nurturing and conversion tactics. In this data-driven landscape, NetSuite CRM transforms from a tool to a strategic ally, fostering growth, boosting customer satisfaction, and propelling businesses toward sustainable success.
Real-Life Examples
In real-world applications, NetSuite CRM analytics has illuminated transformative pathways for businesses across industries. A retail giant utilized customer behavior insights to tailor its email campaigns, resulting in a 20% increase in click-through rates. A software company tapped into NetSuite CRM analytics to identify user pain points, leading to a revamped user interface and a 30% decrease in customer support requests. In the finance sector, a bank leveraged customer segmentation data to launch personalized financial advisory services, driving a 25% boost in customer satisfaction. These success stories underscore how NetSuite CRM analytics isn't just about numbers; it's about empowering businesses to make strategic decisions directly impacting bottom lines and customer experiences.
Steps to Effective Data Analysis
Effective utilization of NetSuite CRM analytics demands a structured approach that transforms raw data into actionable insights. The journey commences with meticulous data collection, ensuring the integration of all relevant touchpoints. Subsequently, data cleaning removes blemishes, ensuring the integrity of the insights. The data then embarks on its analytical voyage, where patterns, trends, and correlations are unveiled. Visualization emerges as the storyteller, converting complex data into intuitive visuals communicating insights. Interpreting these visuals brings the story full circle, providing organizations with the answers to refine strategies and make impactful decisions. With NetSuite CRM analytics, this process evolves into a seamless flow, turning data into a compass that guides organizations toward their North Star.
Challenges and Solutions
While NetSuite CRM analytics offer transformative potential, their implementation is challenging. Organizations may encounter challenges related to data security concerns, data quality issues, and even the daunting task of interpreting complex analytical results. However, overcoming these challenges begins with a robust data governance strategy, ensuring data privacy and compliance. Implementing data quality measures, such as regular data cleansing and validation, becomes crucial to maintain the accuracy of insights. Furthermore, fostering a data-driven culture within the organization encourages skill development and collaborative problem-solving, contributing to a more adequate interpretation of analytics.
Best Practices for Data-Driven Decisions
Turning data into a catalyst for success demands adherence to best practices. Regularly monitoring key metrics ensures that insights remain aligned with dynamic business landscapes. Staying attuned to industry trends and leveraging external benchmarks allows organizations to contextualize their data and make well-informed decisions. Continuously refining strategies based on insights and feedback loops completes the cycle, ensuring that data-driven decisions remain a driving force behind growth.
Future Trends in NetSuite CRM Analytics
As technology evolves, so do the possibilities within NetSuite CRM analytics. Emerging trends point toward integrating AI-driven analytics, where machine learning algorithms unearth deeper patterns and correlations within customer data. Predictive analytics promises to foresee customer behavior and trends, guiding proactive strategies. Cross-channel data integration is set to provide a comprehensive view of customer interactions across various touchpoints, enabling organizations to tailor experiences seamlessly.
Making the right decisions in business involves a thorough understanding of NetSuite costs, pricing strategies, and customer dynamics. With the remarkable capabilities of NetSuite CRM analytics, organizations are equipped to navigate this intricate landscape with precision. As they harness the insights generated by these analytics, they gain a profound understanding of NetSuite costs and pricing models, enabling them to make informed choices that drive profitability and customer satisfaction. NetSuite CRM analytics become the beacon guiding businesses toward effective strategies, optimal NetSuite pricing, and enhanced customer experiences, ultimately fostering growth and success in today's dynamic markets.
Also Read : Adopting a Customer Relationship Management (CRM) Reassures Your Investors!
About Author