Tips For Leading Work Teams In The Company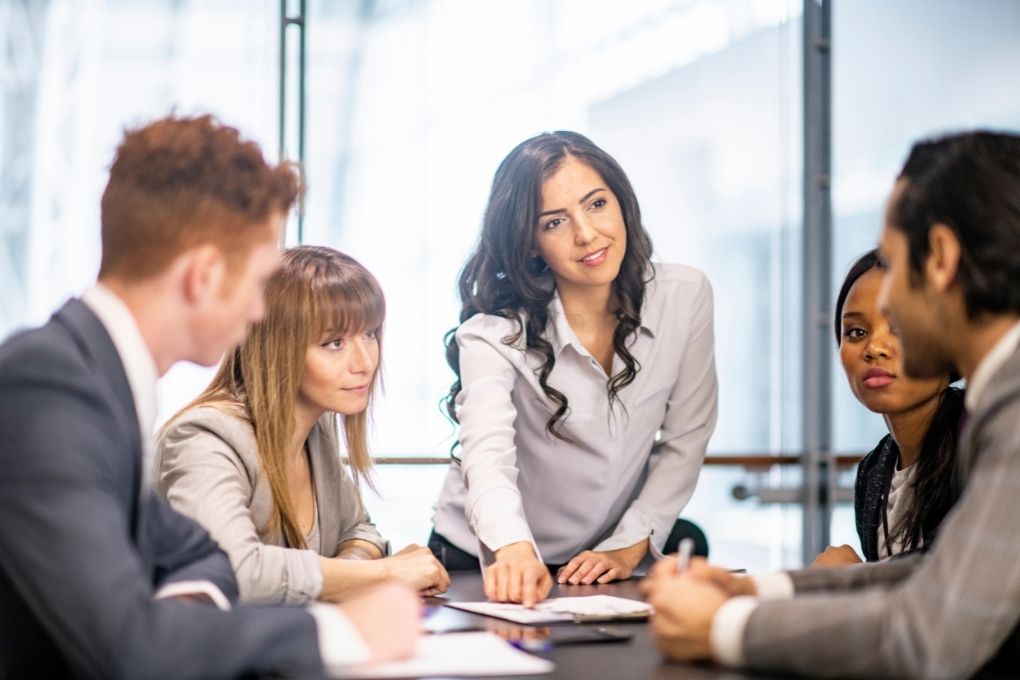 Leading work teams is a key skill to guarantee success in business management . Especially today, when technological advances and the development of the Internet are rethinking the ways of working. The new working conditions that many organizations are adopting – among them, smart working and mobile work – test the ability of managers and directors to lead team members, in order to achieve financial and corporate objectives .
Below, we offer you some recommendations to correctly assume the responsibility of directing teamwork .
Knowing and listening to your collaborators is key to leading teams
As we have just said, the new work dynamics favor the alternation between face-to-face meetings, virtual meetings through video conferences and interaction via chat. All these options allow the members of your team to present their ideas and proposals for solving problems. Also, through these resources you will have the opportunity to get to know each member of the group better. What are your difficulties? What are your professional and personal expectations? From this perspective, you will be able to develop an approach to leading teams with great chances of success. Getting to know the people who make up your team well is the first step in establishing a solid bond with each one of them. Apart from that, you will gain their respect and trust. To do this, apply the old advice of listening twice as much as you speak.
Integrate into your team base. In particular, reach out to those who may be having the most difficulty. If you are new as a group leader, we recommend having joint conversations for 10-15 minutes, once or twice a week. Even design an "office hours" calendar where each member can schedule meetings and connect with you if they need help or just to talk.
Communicate frequently, empathetically and assertively
Communication with your team must be frequent and timely enough. In this way, it is possible to establish relationships, evaluate progress and identify possible risks and problems. All this, trying not to obstruct the development of individual work. This is critical for leading remote teams in which each collaborator is isolated in his or her "particular bubble" of work. As a team driver, you will find greater commitment from each member if you communicate continuously. This shows them that you invest time in them and are interested in what they do.
Along the same lines, ongoing communication reinforces the kinds of conversations you have with team members . For example, you must be assertive when outlining the objectives of the company and the responsibilities of each member. In this way everyone will know what they should do, why and by when. The clarity with which you express yourself in this case positively influences the perception that team members will have of you.
Similarly, apply empathy when resolving a conflict or responding to a request, suggestion or claim from your workers. Try to understand their situation to find a balanced solution that benefits both the employee and the company. 
Encourage and accept new proposals and contributions from your people. The more your team can contribute to the project, the more motivated they will be. Recognize and thank your team when they meet company expectations. Let them know that their work is appreciated. Through these gestures, you will help increase their receptivity, their productivity and even their initiative to develop future projects and tasks.
Leading teams involves delegating responsibilities
Clearly assign tasks and trust each member of your team to do their job. In fact, leading teams does not mean doing the work of others or micromanaging every step. Help your team members reach a level of independence and learning that allows them to enrich their role within the organization on their own. If difficulties or opportunities arise, allow the team to come up with and implement their own solution that has your support. Don't add the problem to your particular to-do list.
At the end of each project, reflect on it and collect information on the perception that each member of the team has about the results. What have you and the team learned during the process? Identify, document and share what can be improved to apply the experience in future projects.
Making decisions is crucial to leading teams
Postponing difficult decisions comes at a high price for the company and calls into question your ability to manage difficult circumstances. But there are ways to assume this responsibility, avoiding complex and compromising situations as much as possible. In particular, it is possible to make a series of smaller decisions by detecting in time a situation that is likely to become a larger problem. If this has not been possible or the measures applied do not give the expected results, take a break, gather all the necessary information and make an informed decision… Immediately! 
Don't be embarrassed to ask for help (it's a sign of strength, not weakness). Consult with your team members. Their input can help you make an appropriate and impactful decision . Leading teams is a continuous learning process and it is impossible for you to always have all the answers. 
However, to minimize situations that could lead to difficult decisions in the future, watch for patterns ahead of time and be prepared to anticipate a solution. Recognizing patterns allows you to make faster and more accurate decisions when you take on a similar challenge.
Create a learning and development environment
One of the most influential motivational policies on team productivity is the promotion of a learning and development environment. In it, you must include yourself and participate as one more. Encourage each member of your team to explore new ways to achieve their individual and organizational goals . Allow them to make mistakes and learn from them. Rewards innovative ideas and contributions.
On the other hand, if you have the ability and experience, do not hesitate to provide professional guidance to your collaborators. Your style of leading teams is enriched to the extent that you can be a mentor to each member of your group. Try to be available to them. Shows interest in developing their career within the company. Keep in mind the motivating power of positive reinforcement. Staff will reward your commitment with their individual progress and productivity at work .
Introduces management solutions and collaborative work in the cloud
Without a doubt, the implementation of digital solutions for management and collaborative work in the cloud are streamlining workflows in companies. Depending on the case, you can opt for a CRM ( Customer Relationship Management ), ERP ( Enterprise Resource Planning ) system or the one that best suits your business. Many of the digital solutions offer integrations with collaborative tools that make it easy to plan and manage projects , as well as communicate with your team. Indeed, these resources have been critical in the implementation of teleworking and in the aforementioned change in labor dynamics. Likewise, it is promoting greater efficiency in the processes of organizations. 
According to the objective of implementing digital solutions in the company, it is essential to provide the proper training to all the members of your team. It is also essential to establish the level of access to data according to the tasks and responsibilities of each person.
Also Read : The Importance Of Digital Consumer Intelligence To Know The Consumer
About Author