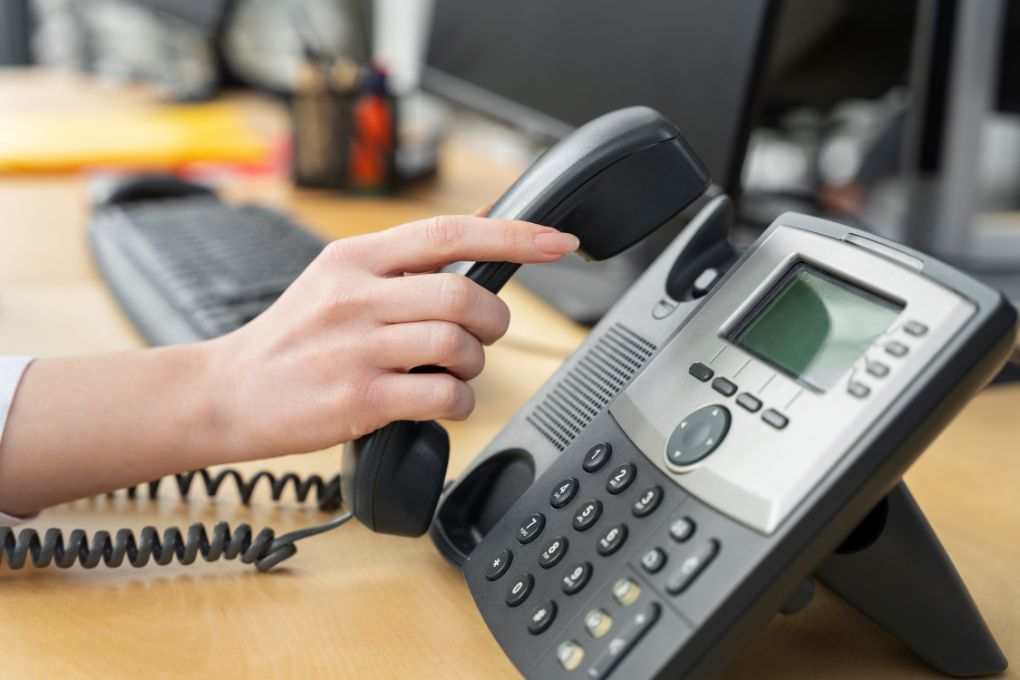 A Private Branch Exchange phone system is a private telephone network used within a company or organization. It allows internal communication among employees and external communication with customers, partners, and other stakeholders through various communication channels like phone calls, video conferencing, and messaging.
Important Points About a PBX System
At the core of a PBX system is the central control unit or server, which is responsible for managing all incoming and outgoing calls. This control unit may be a physical hardware device, a virtual server, or a cloud-based service, depending on the type of PBX system.
PBX systems can be connected through traditional analog landlines, digital (ISDN) lines, or internet-based connections (VoIP). In recent years, IP-PBX systems (Internet Protocol PBX) have become popular due to their cost savings, flexibility, and advanced features.
When an incoming call arrives, the PBX system determines the appropriate routing based on predefined rules and settings. This may include routing the call to a specific extension, an auto-attendant, or a voicemail system. For outgoing calls, the PBX system selects the appropriate outgoing line or trunk, considering factors like call cost and line availability.
Within a PBX system, employees can make internal calls to other extensions without using external phone lines. This feature allows for efficient communication and collaboration among team members.
PBX systems provide various features that enhance communication and collaboration, such as call forwarding, call transfer, call conferencing, voicemail, call hold, call recording, and more. Some systems also support video calling, instant messaging, and integration with CRM software and other business applications.
Employees connect to the PBX system using endpoints like desk phones, softphones, which are software-based phones installed on computers or mobile devices, or mobile apps. These endpoints are assigned unique extensions, making it easy for employees to reach one another and for customers to contact specific individuals or departments.
PBX systems typically include administration and management tools that allow for easy configuration, monitoring, and maintenance. These tools enable administrators to add or remove extensions, modify call routing rules, set up call queues, and access call analytics, among other tasks.
Benefits of a PBX Phone System
A PBX phone system manages incoming and outgoing calls, routes calls to appropriate extensions, and offers a range of features that can benefit a business in several ways:
Cost savings: A PBX system can help reduce phone-related expenses by consolidating multiple phone lines into a single network, enabling internal calls to be made without incurring additional charges. Some PBX systems also offer cost-effective Voice over IP (VoIP) technology, which can reduce long-distance and international call costs.
Scalability: PBX systems are highly scalable, allowing businesses to add or remove extensions, phone lines, and features as needed to accommodate growth or changes in the organization. This flexibility helps businesses adapt their communication infrastructure to meet their evolving needs without incurring significant expenses.
Advanced features: PBX systems offer a variety of features that can enhance communication and collaboration within a company, such as voicemail, call forwarding, call conferencing, automatic call distribution, call recording, and interactive voice response (IVR) systems. These features can improve efficiency, productivity, and customer service.
Improved organization and efficiency: With a PBX system, businesses can assign unique extensions to individuals or departments, streamlining communication and making it easier for employees and customers to reach the appropriate person or department. This can save time, reduce frustration, and enhance overall efficiency.
Enhanced professionalism: A PBX system can give a business a more professional appearance, as callers experience a structured and organized communication process, which can lead to increased trust and confidence in the company.
Customizability: PBX systems can be customized to suit the unique needs of a business, allowing for the implementation of specific call routing rules, customized greetings, and other tailored features that enhance the communication experience for both employees and customers.
Integration with other systems: Many PBX systems can integrate with Customer Relationship Management (CRM) software, messaging platforms, and other business tools, streamlining workflows and improving the overall efficiency of business operations.
A PBX phone system can help a business by providing cost savings, scalability, advanced features, improved organization, enhanced professionalism, customizability, and integration with other systems. These benefits can lead to better communication, increased efficiency, and an improved customer experience.
Also Read : How To Increase Security And Protect Your Privacy On Instagram?
About Author