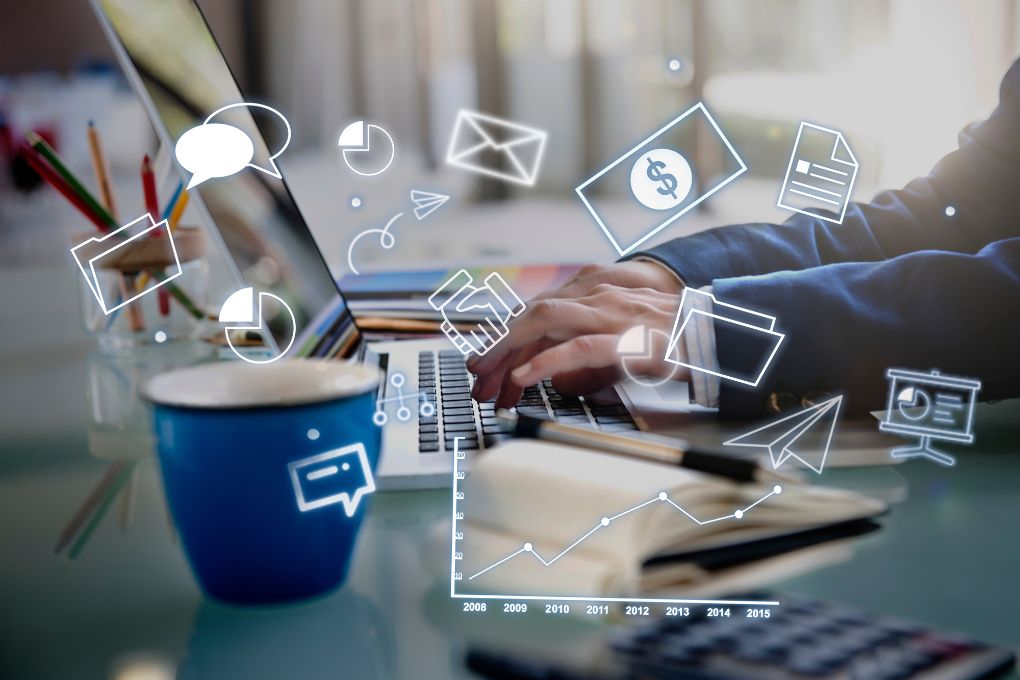 The continuous improvement of your company's internal processes should always be a priority.
Beginning in 2023, digitization is key to releasing all manual procedures and giving real value to the contribution of each member of your teams. It is about the commitment to be more efficient, reduce costs and think about improving indicators in the long term.
We are talking about a complete automation of the administrative, the routine and giving it real space in what the human eye and mind should affect.
It is not for less that more than 90% of companies already have in their priorities for the new year the use of artificial intelligence and digital media as operational support.
The idea is not only to make work easier and faster, but to sustainably increase production without risking the health of your workers. Do more with less, or think about growing without also increasing the cost.
Therefore, today we will explore 5 ways to efficiently approach digitization and turn it into a catapult for your project. We have the best tools to provide you, so let's get started.
The 5 ways to link your company with digital transformation
1. Use a good online billing system
If we talk about going from manual to automatic, you will know that the most tedious and time-consuming process is billing. Mainly because it covers almost all the departments of the company, from purchasing to HR.
With an online billing system you can:
Scan and organize physical invoices from the digital plane.

Manage internal liquidity: having precise control of how much money you have. available in the treasury in the short term.

Monitor potential interest rate risks: with automated control of instruments such as currency swaps or floating or fixed interest rate contracts.

Control credit risk: determining credit limits.
These programs make every department that implements them more efficient. Everything will be within reach of a click and you will avoid those personnel bottlenecks on the key days of the month.
2. Improve your website
In this step we get out of internal procedures and think about how to position yourself correctly in front of potential customers and buyers.
About your website, we go beyond just changing its appearance but transforming all the content you offer, from the descriptions of your products to the payment management platforms.
If your page is optimized, you will improve the flow of buyers completely. Thus:
Increase key performance indicators

You increase overall traffic

You work directly on customer loyalty: everyone will want to come back because of how easy and attractive it is to buy a product from you
Try to keep the template of your digital implementation department updated. If you want to optimize the conversion of your landing pages or any other part of your website, you must have a fairly solid IT department.
You must have programmers who are up to the task, not only on a technical level and with the best programs, but who know SEO positioning to leave everything exactly where it should be.
3. Launch an optimized digital marketing campaign
Once you have facilitated internal billing and digitization has helped you improve your offerings on the web, it is necessary to let the world know that you are the best option to choose.
On this, there are 3 maneuvers to apply in your marketing strategy:
SEO Optimization: As we mentioned before, everything must go in the right place. Feeding your campaign with SEO content will help you rank organically with less investment.
SEM investment: you can address the organic at the same time that you inject capital into making yourself known. Use Google Ads to buy good content positioning.
Social networks: if it is not on Instagram Reels or on TikTok, it does not exist. That your marketing department put together good publications about your most outstanding products or those that you want to always be in the forefront.
While the results of your campaign can easily be measured in clicks, impressions, or direct conversions, aim for a healthy social media presence. 
The idea is to design a solid marketing strategy and thus sustain your reputation in the long term. Try to work with people who present fresh, innovative ideas that are in line with your brand.
4. Use a CRM
The customer should always be your purpose. Not only at the specific moment of achieving that first sale, but thinking about all future sales that that same person will decide. He always has to be the north and it will only be possible by facilitating his purchase process.
Implementing a CRM as a management system for your client portfolio is the best example of putting operational and financial focus on them. With these systems you can:
Improve your experience: giving you a real value offer that meets your needs. The customer experience is the foundation of any optimal conversion system.
Collect social media reach: You'll want to have up-to-date numbers on the implementation of your campaigns. This is a constant feedback process and the marketing department must have numbers to decide on.
Retain in the long term: we talked about the importance of transcending the momentary sale. If you can tailor your business to customer needs, they will come back. It is simple and powerful.
The idea of ​​a CRM is that it can "read" the journey of your customers on your website and guide the experience completely towards their satisfaction. In addition to the fact that it is a dual system in its application: it covers both your internal operational aspects as well as organizing the client's life.They are vital, necessary data that will guide you in the future.
5. Lead with concrete KPIs
Once you've covered the most important bases, you'll have a better idea of ​​your key performance indicators. We are sure that you know exactly where to put your eyes, but digitization will give you back information that can change everything.
This is where you can see the efficiency of digital transformation: making decisions based on real, palpable numbers.
Try to pick a few KPIs and focus on them. Some that cover the macro and you can work towards the micro. Today, we recommend that you bring the following to the fore:
Organic positioning in social networks and digital sales markets: as we talked about before, your digital presence sustains the results in the short, medium and long term.

Results of your marketing campaigns: are your campaigns successful?

Investment versus conversion: monitor that the injection of money you make is in line with sales revenue.

Buyer retention: Are people who have bought from you coming back?

General experience of your customers: if you have numbers that indicate the degree of satisfaction of your buyers, you will know how to project the next steps to be taken over time.
Having accurate indicators is like drawing a map from the starting point to the finishing point. The positive thing is that you should not start from scratch, trust in the return of results that the digital implementation will bring.
The map can draw itself and your focus should be solely on following it to the letter.
Digitization as a way of doing business
Automation can be thought of on two fronts: making operations work and flow better and having more and more information to change what doesn't work and focus on what does. Above all this, do not forget:
Implement a billing system that organizes the collection and payment processes and controls the internal liquidity of the company: your HR and treasury departments, mainly, will thank you.
Optimize your web page to improve the user experience: from design to product descriptions, everything must be set up so that the customer enjoys the viewing and purchasing process.
Improve the reach of your marketing campaigns on three key fronts: SEO and SEM positioning and an active and useful presence on social networks.
Use a CRM that orders, from internal and external, the life and general experience of your customers.
Focus your management on key KPIs: do not get lost analyzing the universe that the buying and selling process brings, start with the macro and go deploying your operations towards the micro.
Digitization brings with it a key aspect: efficiency . It is about investing less human capital while having more information and better results. 
You already have a fairly clear roadmap, so don't waste time and start 2023 by making the irrevocable decision to digitize your company.
Also Read : Definition: What Is "Digitization"?
About Author