How To Create a Good Responsive Design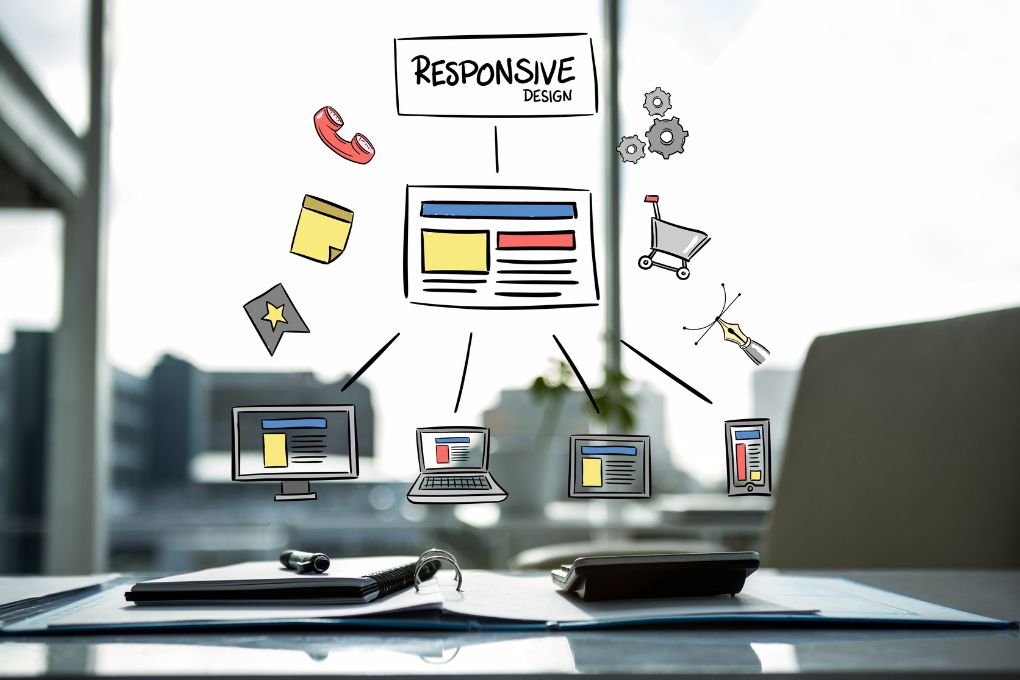 Any brand that is competing in the market has to bet on a term that has become increasingly relevant, until it has become essential. We are talking about responsive design, which means that you can access a brand's website from any device.
Everything that this term implies, what it is, its advantages, its characteristics and how you can create a good design will be explained to you in this post. Let's see it step by step. Here we go!
What is responsive design?
Responsive web design is a type of design technique that is capable of adapting to different screens of a website's devices. It automatically detects the width of the screen and at that moment adapts all the elements of the page to the device in question.
What matters when a customer accesses a brand's website from a mobile phone, tablet, etc. is that he can perform the same actions on it, as if he were sitting in front of a computer . For this reason, it is necessary to resize and place the elements of the web according to the width of the device's screen.
Thanks to responsive design , development time can be reduced, duplicate content is avoided and the virility of web content is increased. This type of design is not a design created from scratch for mobile phones, but the web itself knows how to adapt to the needs of the client.
The advantages for which you should know how to create a good responsive design are the following:
Creating a responsive design is easier than creating different web pages for each device . You must avoid creating duplicate content and so Google does not delete the content for having it repeated.
Google loves responsive web design, and if Google likes it, you have to like it too.
It is also interesting to know that the device most searched for on the Internet is the mobile. Remember that Google ranks mobile-optimized URLs above any that are not.
So that the client does not abandon the web page because it does not work properly, it is necessary to have a good responsive design. If your bounce rate increases, Google will lower you in its cracking.
The 5 reasons why you need to have a responsive website
In all the reasons that we are going to present below, you will be able to appreciate that the client is the most important thing for a brand. The success of a product or service depends on him, therefore his satisfaction is the main objective of the company.
More and more people search for the mobile phone, it has become an indispensable object for the human being. They continually access content via the Internet. Globally, more than half of Internet traffic comes from mobile phones.
If the user is happy and achieves his goal on the website, his experience improves . When the experience is positive there is a greater chance that they will become a repeat customer and buy the products.
The branding of your brand can only improve with a responsive design. Just like when you meet a person for the first time, if a user accesses the website and his experience is not good, it will lead him to think that it is not serious and that you do not care about him.
With a good responsive design, you will get more conversions and leads. Better navigation through any device ensures that the customer finds what they are looking for and buys.
Responsive design is a good investment for the future . We do not know what awaits us, or what type of devices are going to appear, so it is much better to have everything already prepared. You will save a lot of time and work.
In the future, everything will be more technological, innovations will change our lives and our way of seeing the world. For this reason, it is very important to lay the foundations of a good responsive design well . Perhaps soon we will be surfing the Internet with virtual reality glasses , which will also need their own screen focus.
How to create a good responsive design
And to finish the article, we are going to show you what steps you have to take into account when creating a good responsive design. Pay close attention!
Find out how your users use the mobile . It may help you to carry out a survey or other type of analysis to find out why and how they access your website.
The second step is to plan a design, it is advisable to make a layout so as not to waste time designing and getting to the point. Also make sure that your prototype can be adapted to the responsive design.
The navigation section of your website is very important . The normal thing is that in a mobile it is done with a "hamburger" icon that must be displayed, which is not always the most visible solution.
Fourthly, we affirm that it is essential that your images are optimized, with the appropriate format . The same happens with the icons and with the logo of your brand.
If you are starting to build your website from scratch, consider following the "Mobile First" approach. What does this mean? Well, you can create the web page from the mobile version, if there is no problem you can later adapt it to other types of screens.
Sixth, we recommend using Media Queries for your web page, they are capable of detecting the resolution and width of the device's screen, and adapt the measurements to the screen in question.
Add keyboard activators for forms , that is, when the client has to write something, a keyboard according to the device is activated.
And finally, you must ensure that any button on your web page can be clicked without any problem . We recommend using a rectangle or a circle to represent the button.
Also Read : The Different Types Of Managed IT Services
About Author