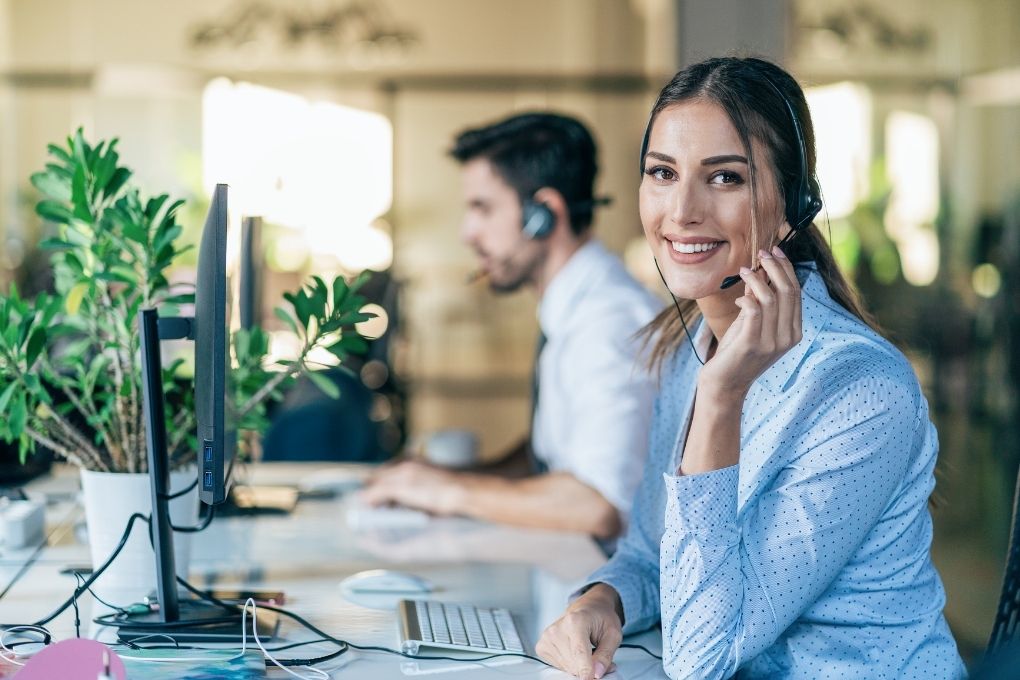 What actually is customer communication? As the parts of the word show, it is about any communication with a company's customers. The type of communication is divided into two categories: On the one hand, there is customer communication, which takes place in service. It is personal and takes place in one-to-one conversations. It is usually initiated by the customer.
The second type is more likely to come from the company. It happens as part of marketing measures or public relations. The company and the goods or services it sells should be made palatable to customers. Both types of customer communication take place at multiple touchpoints and in many situations.
The boundaries between service and marketing are disappearing
At the time of classic advertising, the channels and processes of the two categories were more separate: advertising and PR took place in the mass media, dialogue on the phone or by letter. Today both come together more and more. For example, a brand publishes advertisements on social media. Customers then approach the brand directly below in the comment column.  Communication becomes two-way; Customer care takes place under an advertisement.
The watering principle and push measures become  personalization and pull offers.  This brings us from the definition of customer communication to what constitutes successful and professionally implemented communication.
The rules of customer communication
With good customer communication, the customer feels in good hands and "taken care of". General  customer satisfaction increases  measurably. Conduct surveys before and after new measures. In doing so, you should specifically ask for an evaluation of the customer communication. Based on the answers, you will find out whether your communication is really working. Because no textbook tells you that, only the  opinion of real customers.
Think customer-centric
You have probably heard the phrase "the customer is king" many times. In designing customer communications, it is absolutely true and cannot be repeated often enough. Because the purpose of customer communication is  to ask what the customer needs  and then  deliver exactly the answer  (and the product or service) they need.
Act proactively
Do not just react to questions and complaints, but ask yourself if everything is okay. Give the opportunity  to make suggestions for improvement  . Also inform the customers  early on about problems that arise on the company side. For example, if there are delays in delivery.
Have an open ear
When the customer starts the dialogue, don't be distracted, just listen to them. Preferably not just with one, but with two open ears. Also, the more  actively and patiently  you listen and the more you respond to exactly what the customer said, the more they feel understood and taken seriously.
Personalize dialogue and monologue
Whether you are sending out a message one-way or are in a two-way conversation with the customer: Adapt your statements to your counterpart. Addressing the interlocutor by their name is the bare minimum. Better find out more about the customer and design your communication accordingly. For example,  address topics that are of interest to exactly this customer.  Only send relevant advertising messages.
Pan from monologue to dialogue
The path of modern customer communication generally leads away from the monologue and towards dialogue. So no matter what message you send out, there  should always be an opportunity for the customer to respond to it.  He now expects this option. If the customer approaches you first, respond whenever possible as well.
The goal is to build a  personal bond  with the customer and also to find out  what they want from you.  First hand and without false assumptions.
Avoid complex jargon – but not always
In most cases, a customer is not as familiar with the products and services as you are as a supplier. So avoid terms that are not generally known. Rather paraphrase  something instead of using a foreign word. Unfortunately, few customers are willing to admit that they don't understand what you're saying.
In some cases, however, the customer knows the area very well and is very  interested in a technical discussion.  You will notice that your counterpart uses appropriate terms of his own accord. In such a case, you can shine with your expertise. Exchange ideas at eye level for added value on both sides.
examples and pictures
Your explanation of the product resonates better with the customer if you use examples or   speak in metaphors . The brain is also much  better at remembering such representations  than abstract words. Over time, you will find certain comparisons that you can use again and again – because they simply work.
Customer communication is part of the overall strategy
With all the details related to customer communication, it should not be forgotten that this is one of the larger goals of your company. It should match your  image  , adapt to your  target group and be  helpful in  achieving annual goals  . If she walks in a different direction, something goes wrong.
Adapt to customer's habits
We have emphasized this topic many times before. It is important to be accessible so that the customer can follow their usual communication habits. To do this, provide  several channels  for contacting them. Then tailor your conversation to each channel. A conversation via WhatsApp, for example, looks very different than one via e-mail.
honesty and transparency
Communication with the customer also includes  informing them openly about what is happening in your company.  Not about every detail, but at least about everything that concerns the customer. Let us know if rates or conditions change. Introduce contact persons and above all: Deal  openly with mistakes  . It is allowed to make mistakes. However, covering them up will negatively affect your reputation.
Use positive phrases
This tip is not only valid for customer communication, but for any kind of entertainment. Positive formulations lead to a  positive mood and avoid misunderstandings  (e.g. through double negatives). Instead of "we can't deliver it before Thursday", say "we'll deliver it to you on Thursday".
Never be reproachful
Of course, it happens that a customer turns to them with a home-made problem. Nevertheless, you should not blame him for this, but remain helpful. There is also the danger that allegations are premature and ultimately it was more the company's fault. It's best for dialogue when the  blame is dropped  and you work out the solution together.
The power of rapport
Rapport is the  connection that occurs between interlocutors.  It is constructed through both verbal and non-verbal signals. Adapting to each other's expressions and attitudes strengthens this connection. The advantage of customer communication is that the customer  builds sympathy  for you. He trusts you and thus your brand more and will look forward to the next conversation.
The communication iceberg
Before you walk out of a situation frustrated because you just couldn't get your point across, consider the  iceberg model of communication  . What resonates with someone else depends only in the smallest part on what you   say on the factual level . The largest part of the message consists of non-verbal signals such as  gestures, facial expressions, situation or tone of voice.
Watch your voice
When getting your message across depends so much on the pitch of your voice, you should pay more attention to your voice. Practice your form of expression, for example   to sound  friendlier or more convincing . This can be done at home in front of the mirror or in an exercise with colleagues.
Internal consultation in customer service
At the organizational level, there are also a few things to consider when communicating with customers. For example, a customer shouldn't have to tell the same story three times because they're talking to three different employees. Pass on information internally. Ideally, there is a  central point such as a CRM where all information about the dialogues that have taken place are collected.
Not blamed is already praised
This saying is not always valid. For example, managers should not only blame, but also encourage positive ones. When communicating with the customer, however, the following applies: If the customer does not blame you as a company, you have acted as he had hoped. You will only receive praise if the customer is enthusiastic. See the Kano model  for more on this phenomenon  . Keep this in mind as you analyze customer feedback.
Also Read : Differences In Digital Signatures
About Author