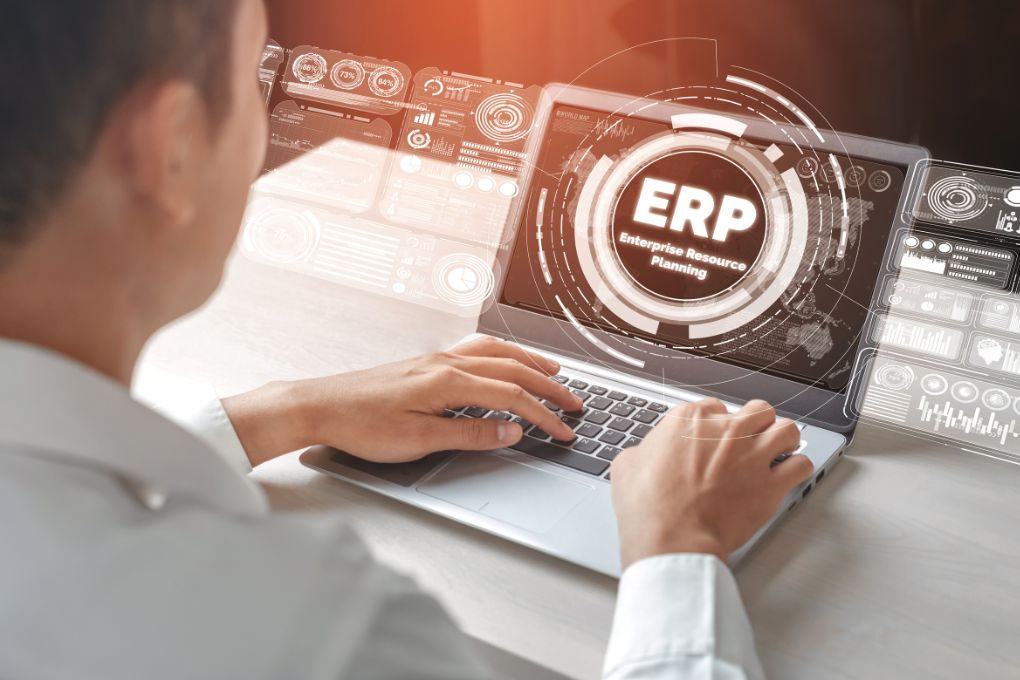 ERP is not a resolutely new solution, since it appeared in companies in the 1990s, following on from MRP (Material Requirements Planning) which appeared in the 1960s.
But, as we regularly remind ourselves in our lines, the ERP is in constant evolution and the new uses of the company, combined with new technologies, make it a solution whose field of action is more and more extensive. So we can assume that the trades related to the use of an ERP will be more and more numerous and more and more necessary for companies. But what about in reality?
ERP and Data at the heart of tomorrow's jobs
I recently had to answer questions from a teenager in my family who asked me to help her choose her future career path. A crucial and difficult question if ever there was one, since it can condition a person's entire life, even if today's career paths are more flexible and subject to change than in the past.
I was hard pressed to answer immediately, not wanting to give indications and advice that would be either inaccurate or too biased, based solely on my experience and my work context. So I had left the question hanging, with that consummate art that all parents know well when an embarrassing and difficult question arises. But I had all the same promises to come back to it later, with elements of an answer.
So I was wandering around for a few days without really knowing how to approach and solve this problem, when the chance presented itself to me, in the form of a visit to the media library in my neighborhood. When I entered it, I passed in front of a display rack displaying some of the latest book acquisitions, and there was a small work recently published: "the professions of tomorrow" *, published by the student. Leafing through it, I realized that I had found exactly what I was looking for and I was partly surprised. Among the 50 "jobs of tomorrow" listed in this guide, a significant part is linked to the processing and use of digital data, and in fact to ERP.
In this short guide at least 12 professions of the future (i.e. 25% all the same!) linked directly or indirectly to  the exploitation and collection of data  are presented. A simply enormous proportion, if one considers the considerable range of professions which are, for example, listed by official nomenclatures.
New trades, new names
Let us therefore recall what is hidden behind these sometimes somewhat barbaric designations, what their main attributions consist of, and why they are in connection with data processing or ERP.
He manages transport, warehousing and orders. He coordinates the flow of logistical information between internal (production, planning, distribution, purchasing, etc.) and external (producers, suppliers, wholesalers, etc.) contacts. He is one of the main users and beneficiaries of an ERP.
Specialist in online sales, he analyzes, synthesizes and acts in particular with online sales tools to develop the clientele of his company or his client. Data is its raw material and ERP one of its basic tools.
The e-CRM (Electronic Customer Relationship Management) project manager manages the customer relationship on the web. Its objective: to better understand the consumer, to build loyalty in order to develop sales and generate profit.
As its name suggests, it is external to the company, and acts as an advisor. 57% of French people have a smartphone, and many use it to buy and order online. This is why jobs related to m-commerce will develop, and they will involve a good knowledge of Data and ERP.
Very involved in marketing, he can sometimes be named differently (online marketing manager, etc.). The digital strategy manager is responsible for developing and deploying the company's multi-channel strategy.
Internet users are able to compare prices and services in real time. This is why it is sometimes necessary to use a "Yield Manager", to constantly adjust prices in the manner of airlines and generate optimized profits. For this, data analysis and ERP can be essential tools.
The Category Manager is responsible for developing the turnover and profitability of one or more product lines. To do this, he will play with market segments in particular and help distributors modify their departments or their internet offers. He can therefore also be called upon to interact with the ERP.
Or data marketing consultant. He has an overview of the data business. It helps the company or its customers to find their way around, to define their needs, to structure themselves around data and to recruit the right employees.
He is the "general" of the data, the one who is responsible for collecting it, exploiting it, extracting its quintessence. He must make sure to improve its quality so that it is usable, but also propose and apply a strategy around Data, which can be applied throughout the company. A centerpiece.
From "growth hacking", word for word: growth through hacking. A growth hacker quoted in the guide summarizes his task as follows: "…just as a burglar diverts the function of a paper clip to pick a lock, the growth hacker legally exploits the user database of social networks in order to develop its clientele. »
The Lean engineer optimizes the management of time, resources and skills, to improve the performance of a production unit or an organization. There is therefore a good chance that he will interact with the ERP if it exists, and that he will be a big fan of data and analytical solutions.
In the United States, the data scientist tops the 25 most highly rated professions, listed by Glassdoor for 2016. This shows the strategic importance it has. He is responsible for data management and analysis (Big Data). In a way, it is the evolution of the "Data Miner".
Supply Chain Manager
Ecommerce Manager
E-CRM project manager
Mobile Marketing Consultant
Head of Digital Strategy
Revenue (Yield) Manager
Category Manager
Data Project Manager
Chief Data Officer
Growth Hacker
Lean Engineer
Data Scientist
Here is a non-exhaustive list that will delight people looking for a job as well as decision-makers who are committing their company to the digital transition.
Data, a resource for the company but also a source of employment
The introduction to this guide recalls this pertinently by quoting the Montaigne Institute: "…the first technical revolution was that of the machine at the time of the Renaissance, […] the second was the mechanical revolution of the industrial era , […] the third is the digital revolution of which we are both spectators and privileged actors. »
If this guide is intended, it should be remembered, for pupils and students seeking their way, it will undoubtedly be just as much appreciated by parents and even, dare we say it, managers and business decision-makers. Because it's a safe bet that there are still few who have taken the right measure of this  "Data" revolution  and the impact it will have on the functioning of their internal organization but also of all their ecosystem, partners and suppliers included.
It should be noted that most of the professions that we have just listed did not exist a few years ago. As for their terminology, often borrowed from English, it is certainly unknown to a good part of the managers of SMEs/SMIs, who cannot however claim to recruit the rare pearl necessary for their future development without knowing these  new professions  and the functions that they cover.
Acquiring new knowledge is a profession in itself
Finally, an important point should be noted concerning the emergence of these new functions: they are sometimes  the evolution of existing professions  and they too will evolve rapidly, or even disappear, in the future.
The digital revolution indeed implies constant changes of context, placing change at the heart of the company. One of today's essential skills in business is therefore… the ability to adapt and change.
However, the digital revolution that has created this need for change also provides a relevant response: there are countless tutorials, videos, MOOCs, often available online for free, which allow you to update or acquire knowledge on specific subjects. .
With all this information and thoughts, here I am able to respond (finally) to the requests of my teenager. By specifying to her that she can certainly turn to the Data professions, an essential source of many jobs in the years to come.
These new professions can constitute the bases of this transition, and show if it were necessary that the ERP, the CRM, the analytical solutions, and all the solutions linked in one way or another to this essential resource that has become the given, still have a bright future ahead of them.
Also Read : Use Your Laptop Longer: Steps To a Longer Battery Life And a Second Life
About Author