Importance Of Programming In A Company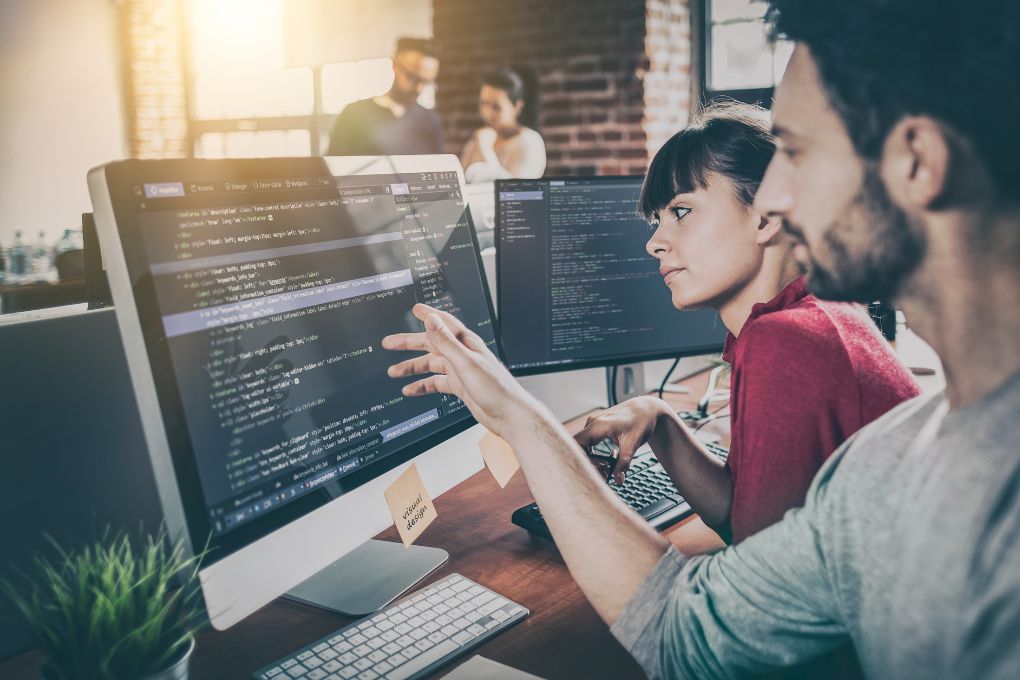 The importance of learning foreign languages ​​is highly valued in business all over the world. Being a polyglot is a remarkable attribute, but in addition to the languages ​​spoken in different countries, there are other languages ​​with an even bigger role. For this reason, it must be valued in the same way by the business sector, as is the case with programming languages. Since they transform our way of making use of technology. These languages ​​have quickly become essential for companies. For this reason, in this article we will highlight the importance of programming in a company.
What is the importance of programming in a company ?
In typical new business environments, small groups of individuals come together and create a complementary team where each one puts their skills at the service of the dream of creating a company.
The importance of programming in today's world stands out because it is a skill that opens new doors in the world of technology . In addition, it is already a required expertise along with other more conventional ones such as accounting, administration and marketing . Something that does not seem to change thanks to advances in technology , demonstrating the importance of programming in daily life .
Therefore, if you want to innovate your business, knowing programming languages ​​is a necessary ingredient for your success .
Importance of learning programming languages:
Now, to better assess the importance of programming , we have made you a top with the most relevant aspects:
#1. The language of technology:
Learning to code and work effectively with technology is like learning another language . If you want to take advantage of technology to grow your business, you should understand the language of this new environment. Likewise, if you want to internationalize your business, you would have to learn their customs and culture, because the same thing happens with technology. If you understand the language of technology and its ecosystem, your products and business decisions will be made based on better information .
#2. Product and service development:
Another great factor of the importance of programming in a company is that it will allow you to understand the work related to the creation of a new application, game or productivity tool or service. To achieve this, you need passion, creativity, a great team, and something that sets you apart from the rest .
At the same time, you will acquire the ability to manage talent and projects . All this will be easier for you if you have a great understanding of all the resources that are needed . Because this way you can create realistic deadlines and conscious expectations about the development of the product or service in which they work. This way, you and your team will be on the same page, especially when facing difficulties and frustrations inherent in the development process .
You will notice the importance of learning this knowledge when empathy within the team manifests itself in mutual respect, greater morale and teamwork, and ultimately, greater productivity .
#3. Selection of talent:
For any new business involving technology, hiring the right teams is a crucial factor. Your employees will bear much of the responsibility for success. And if you don't understand or know the difference between mediocre and good technical talent, you're prone to making costly mistakes . If you know how to program, then you will know what to look for in your prospects .
#4. You will be able to make the corrections yourself:
Another possibility that indicates the importance of programming in a company is that if you know how to do it yourself, you will be able to advance in your project without a large investment . And it is that when you have a new business, you may be short of resources. This is how instead of interrupting your team to make corrections or changes, you can get involved in the work. Also, you will become a part of the operational process. In this way, you will be able to help in the projects and not overload your work team.
#5. Critical thinking:
In the early stages of a business' life, every decision you make, big or small, will have a powerful long-term impact. So a CEO has to be able to make good decisions under pressure. The critical reasoning skill is another important factor of programming in a company. And because it facilitates decision making . Because there is no better way to run a company than knowing what each of its processes is about .
How to choose the best programming language to start with?
There is no such thing as an ideal programming language to start with . It all depends on what you hope to achieve by learning to code, and what your personal interests and abilities are . Moreover, do not get carried away by the opinion of evangelists. Those who affirm that a language is indisputably better than another, well this is not true.
The best thing in this case is to have advice from a specialist in the area who can point out the most convenient options . Likewise, to achieve the idea is to have a staff in the company in charge of it. So don't overvalue the importance of a programmer.
A factor in favor of the importance of programming in a company is that each language has its pros and cons . Since they can be used for very different things. For example: Python , a language that pays very well and allows you to work on web development applications or data analysis. There is also Javascript , where you can find work anywhere in the world using it for its wide variety of utilities. Finally we have Swift , a fairly recent language, it has been growing in popularity because it is very good for iOS development.
Also Read : Cybersecurity Expert, a True Genius Of The Digital World
About Author