Use Chatbots In Customer Service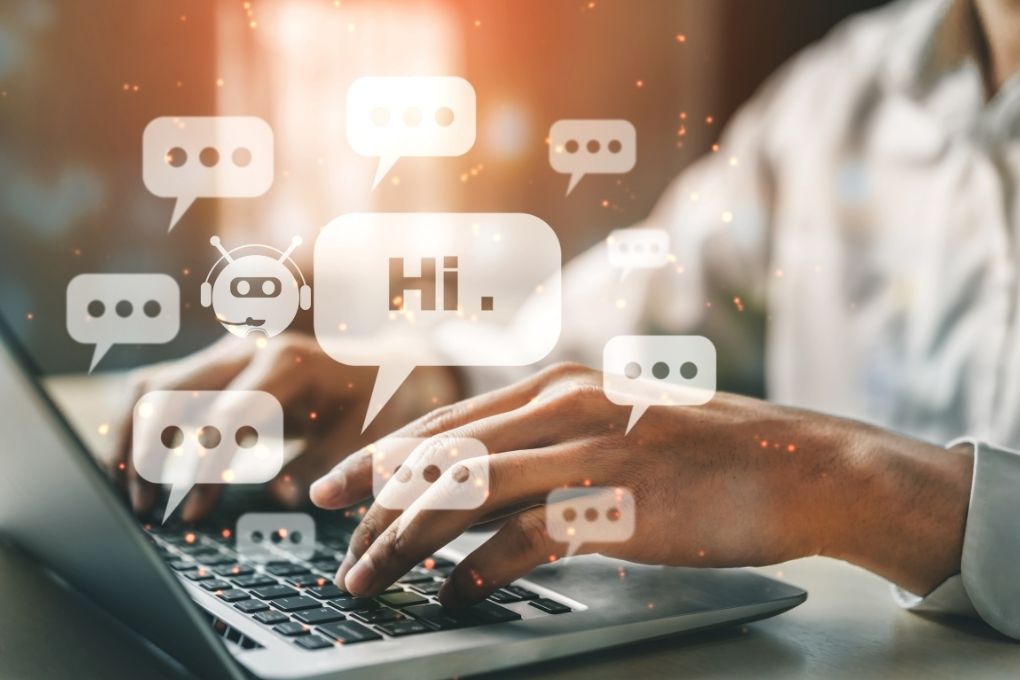 Digital innovations have long since arrived in customer service. Thanks to them, you can solve more requests in a more organized, faster, less complicated way and without any remaining questions! This gives you a real competitive advantage. A possible tool for this are chatbots in customer service. The little helpers do important preparatory work by asking the right questions in the chat themselves.
Read here how the bots work and how they are used in business processes. To make it even easier, we offer you a tool to create the question forms and send them in the chat.
What are chatbots?
Chatbots are  computer programs that mimic natural human  conversations . Their name is made up of "chat" (the English word for conversation) and "bot" (short for robot). A chatbot automatically asks questions and provides answers. In between, he waits for the response of his interlocutor.
The purpose of the chatbot
The aim of this is to answer queries without a person having to actively search for or reproduce information. This task is taken over by the bot's program instead. You know the principle if you have ever asked a  voice assistant  like Alexa about the weather. The device gives you the answer itself, no employee from Google, Amazon and Co. speaks or writes.
How does a chatbot work?
In order to fulfill their task, the bots use  scripts  and  knowledge databases . They use  speech recognition, hard rules  and, if AI-based,  machine learning to optimize their answers. The more advanced the  artificial intelligence , the more different problems are recognized and solved independently by the bot. He then acts on the basis of experience and makes his own decisions.
The word chatbot usually refers to programs that react to typed, textual input . However, the way they work is closely related to the auditory controlled voice assistants. They show up as a regular  chat window in the user interface, on a website, or in an app. However, with the note that a bot will respond instead of a human. To make the conversation more personal, many bots are given a name and a friendly avatar.
What is customer service?
Customer service is the   part of a company that  takes care of customers ' problems, questions and requests . Among other things, it includes the  helpdesk , which deals more specifically with technical issues. Every business has some level of customer service policies and staff . However, the smaller the company, the more intuitive and unregulated it is.
Good service keeps the customer loyal and at the same time reduces the number of complaints and bad reviews. He can turn ordinary buyers into enthusiastic regular customers because they  feel that they are in good hands . Visit our blog to learn more about how to improve your  customer service.
The advantages of chatbots in customer service
So why is it worth using a chatting robot instead of a real, thinking and feeling human?
Chatbots are always in use, even when the staff is sleeping and the rest of the service is closed.
They answer immediately.
You don't need a salary.
This means that they are also geographically independent, a customer can also be located abroad and make his request from there.
The bot transfers the data 1:1, there are no careless mistakes or inaccuracies (unless they already happened when entering the data).
Bots are focused and patient at all times.
They make work easier for your team, since they can concentrate on a few, complex requests.
Even in times of pandemics and social distancing, chatbots are close to the customer and always in action.
Studies show that well-functioning bots increase customer satisfaction.
Gain competitive advantages
One of the  effects of digitization  is that customers want immediate service. Nobody wants to be time- or location-bound when making inquiries. Especially since it has been known that chatbots exist, it can even lead to dissatisfaction if such a quick contact point does not exist.
Those who are already working with chatbots stand out positively. This is especially useful if your product is very similar to a competitor's.  Bots could soon become the norm. Until then, you should take advantage. But don't neglect your  other communication channels . Today's customer wants to contact you where he feels most comfortable.
When is a chatbot useful?
Chatbots always help when the structures of customer inquiries  can be standardized and  are unmistakable. If a clear input is given, the bot gives a clear output. However, he cannot give personal opinions on a vaguely defined problem.
In practice, this means that chatbots   change or research customer data , for example. You can also  make appointments  or  look up information  about them. They output content for a specific  keyword  (like a search engine), explain a  fixed process  or guide the customer along it. They are mainly suitable for cases where an employee would waste a lot of time with a search or if this would have to be repeated over and over again.
Even if  many customers  make inquiries at the same time, a chatbot will help you. Thanks to him, the team is relieved for important cases.
Use cases from practice
To give you a better idea of ​​how chatbots work, here are a few examples:
Do you feel sick and want to know what your symptoms mean? Bots developed by doctors can give a preliminary diagnosis.
There are many products in finance and insurance. These are often hardly known to the interested party. A chatbot records information about the living situation and then suggests the right product.
A bot can also calculate the appropriate tariff in other sectors.
Report damage to your insurance company the moment it happens. The chatbot asks you for all important information.
Make a complaint or return goods. The bot handles the case.
Inquiries from leads and customers are forwarded to the right department in the company by the program behind the bot.
Frequently asked questions about a product are answered before and after the sale.
The bot can explain where and how certain technical settings are made.
Ads are sold to advertisers. The bot asks for the desired format, the duration of the placement, etc.
In the travel industry, chatbots answer questions about flights and train journeys, take care of rebookings, explain security regulations or carry out upgrades.
Problems with an online shop or with the payment methods? A chatbot can help with operation.
Have you thought about it? Bots are also suitable for generating leads: if someone makes a request, they can ask for their email address. The detailed answer will be sent there later. However, you must not disregard the rules of data protection during this process! Show that you are a trustworthy company.
Within the company, bots help with the use of programs, answer questions from employees or coordinate meetings.
In your role as a customer, please pay attention to what cases other companies are handling. You can be inspired by this for your own customer service.
When are chatbots not useful?
The limits of the bot in customer service are  where questions become very specific or arise for the first time. The more developed the AI ​​behind a bot, the higher its chances. But if the answer is misleading or repeatedly fails to provide, the customer will become frustrated.
Even with older,  conservative target groups, the digital helpers are not the best choice. These people may be overwhelmed or refuse to use it. The same applies to target groups with poor access to the Internet.
When customer service requires psychological sensitivity
When it comes to complaints, there comes a point where a bot will do just fine. However, as soon as a detailed explanation is needed, as well as  psychological knowledge and genuine understanding , a human should handle the case. Personal advice also works better when an employee cares. The chatbot can make suggestions, which are then confirmed or discussed further with a person.
All situations that  require emotional sensitivity should  by no means be handled by a robot! A clear example would be the organization of a funeral.
Will customer service agents be replaced by chatbots?
With technical developments, the question quickly arises as to whether human employees will become superfluous. In the case of chatbots, the answer is  no. The bots complement the work of a  competent service team  perfectly.
Because the in-depth dynamics of a real conversation cannot (yet) be replaced by machines. The bot is only useful if something needs to be solved quickly, pragmatically and on your own. He also likes to do the tiresome hard work. In addition, the programs behind the chatbots are developed and operated by humans. So bots don't cause unemployment, but rather a more pleasant experience for the customer and the service employees.
What else should be considered when using bots in customer service?
Only use chatbots if they have been professionally programmed. If you don't have your own dedicated IT team, use a third party. Then connect the digital helpers to other systems such as your CMS.  Only in this way can customer data be automatically compared, changed and output as a response. The database behind it must always be kept up to date.
If you offer a chatbot, it should also show its strengths and  be permanently available . Place it  prominently on the website or in the app. However, it should not interfere with flashing or the like. The chat window must be able to be closed at any time.
Create a connection to live chat?
If a question from the customer remains unclear or the course of the conversation with the bot shows that it is becoming more complicated, a  forwarding to a real person  can be set up. Or a contact form opens that sends longer messages to your employees. Although this delays the process, the solution is more satisfactory for the customer.
The change can take place actively through the chatbot, for example if the answers move along a certain path. Or by the requester who presses a button. The advantage of the combination is that the  most important information has already been collected by the chatbot . Your team does not have to ask for all the information again.
About Author