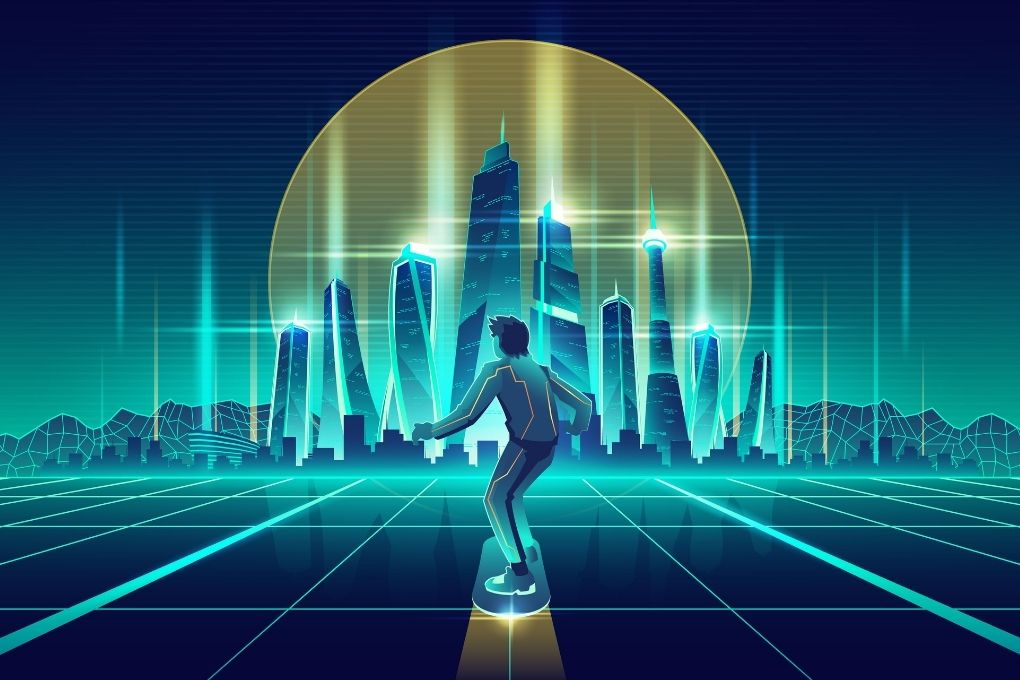 The Metaverse is an immersive and virtual projection of what we think will be the future internet. A commitment to understanding that there is a physical and a digital world connected, almost in a hybrid that promises to become a parallel universe (Where do we want to escape?!).
At present, let's be flat. There is no metaverse as it is. If we had to define it with a pen: the Metaverse must be an immersive and self-sufficient space in all its terms: emotional, social, cultural, or economic. A mirror of reality that assumes the need for relationships and business: virtual real estate, new sales channels, brand experiences, cryptos, NFTs, internal regulation itself, stock markets or access to extensive communities (Gamers), and the opening of the profiles captured from the current social networks (Facebook, TikTok, Instagram… now comes to Be Real
Although without a doubt, the complexity and the strongest stopper is that for there to be a Metaverse, too many giant companies have to agree… and collaboration is born. The same as bringing together so many fans of games or cryptos, bringing together followers of networks and influencers does not seem an easy or immediate task. And it is that the must of the Metaverse is to offer complex interoperability. That will allow us to navigate with our Avatar from one verse to another without losing identity and our virtual property.
I recently had a conversation with the marketing director for a major clothing brand. It was clear to me that the Metaverse moment is Hype, but also that if you do it in a meaningful way for your brand, you open a path of credibility. It Is necessary to be fully involved in developing these new channels and audiences. 
I didn't doubt that it was Hype. You have to activate news alert programs, and there they are, hundreds of big headlines (and little else) about the Metaverse in your mail every morning. In the conversation with the director, evidence was put on the table that the concept is exciting and allows the phygital moment to be exploited because it has come to stay. And there we have examples of Nike or Vans on Roblox making games, user-generated clothing collections, H&M adapting their influence plan or Samsung and McDonalds that have turned it into an omnichannel sales experience via shift delivery… although their expectations are higher: to feed "virtually," sell virtual electronic super-devices of charge in exchange for improvements in their consumer's Avatar.
And ending the conversation with her, we clearly remembered having experienced a very similar moment with Second Life twenty years ago. And we laughed.
To conclude the momentum: games and networks are the first steps. Undoubtedly, massive games assume the most advanced experience, and social networks complement the possible interactions and transactions between meta version early-adopters. The next level of the Metaverse will be the full confluence in phygital hybridization, where we will no longer distinguish between physical and digital reality. Increasing and extending ourselves will be a new and alternative global reality where we can escape, get lost or run away… Something for which technically I fear there is a long, long, long way to go. (Or is it already happening without the need for the Metaverse?)
And in the reflection around the Metaverse concept, when I delved a little to understand it better, beyond the opportunities and keys that we have related. When he suddenly made a personal discovery that I think allows us to approach the Metaverse with a particularly critical and cautious look. Actually, and this is purely my opinion, the Metaverse is not only the product of technological innovation (the blockchain or Web3) but also a cultural one. The Metaverse owes an outstanding debt to the medium that has been key to communication and marketing: television… and significantly how it evolved in the decade that gave rise to a New Whole Era: the nineties. 
The Metaverse Was Born In… The Nineties?!
When we talk about the TV that takes us to the Metaverse, we do so at a historical moment that should not go unnoticed: the beginning of a whole new era called the nineties. Everything had a television tone, a moment that was experienced as the final push to live in a televised world, from words to deeds. It was even a moment in which television served as a refuge from selfhood (so fashionable since then).
In the 90s, the television model and mentality are radically established… the remote control catches us, and the video empowers us, the content anesthetizes us, the video cameras watch for us and steal our memory, the satellite globalizes the signal of cultural impact, the video game console allows us to escape without needing imagination. Back then, MTV and the live broadcasters seemed more responsible for the success of the fall of the Berlin Wall than the people or politicians involved… 
The visual and cinematic language was standardized and globalized, too much like dreams, and we like that. The habit of "everything can be broadcast" that was already promoted in the 70s is naturalized. The reality formats begin to be a success until the arrival of Big Brother, just as the final fireworks of the decade. Warhol's 15 minutes of fame began to want to be 15 minutes of prominence… and today, we also want them massive.
Reality television devastated and anchored the foundations for the social network model imposed… appearance, conflict… Two essential elements to provoke needs that advertising scratches in the deepest part of the Freudian self.
Also, amplifying the more subjective little other Lacanian self… Aren't we born thinking that they observe us even though we know that we are ourselves? The artists who sculpted works to be seen on the facades of buildings chiseled the entire sculptures down to the smallest detail, even knowing that the public would never be able to see them in their entirety. They did so "because, in reality, God sees everything."
Let's substitute God with respect for "Me Myself and I." There we will have the great complex that has tormented us since the 90s and that the audiovisual artist Nam June Paik associated with the television kaleidoscope capable of transforming our way of thinking and feeling ourselves, because we better forget about others… to look at a screen we don't need anyone.
Solitary brothers and sisters who grew up in the 90s. A time that has marked the future of current presences. We want to be more for less. And not think that everything it's going to end. Is that why the Metaverse!?
Is the Metaverse a generational answer to the 90s? What were we running from in the 90s? Why did we take a car to spend endless weekends listening to Makina and altering our concept of time thanks to the design of new drugs? Why did we go to raves where we danced alone surrounded by people? Why did we isolate ourselves imagining "go who knows what" while we wandered around listening to the Walkman? What drove us to see ourselves immortal? The consumerist nihilism that everyone talks about? The search for a structure that would support a new mentality? Wanting to belong to a "global" consciousness that will always be virtual, never physical? Being an inherent part of the system? What if the social contract becomes more flexible? What if the system does not meet expectations?
Classic audience matrix in the 90s: I choose a career/profession, I buy a car, I get a partner, I get that job with a future, we get married, we become owners, we reproduce, I spend the summer with the in-laws, communism like fascism they self-destructed so now it's my turn to be… well thinking about what I "think" hurts so I'll leave it for another day when I have to travel and live experiences like Expo 92.
So it was logical to be addicted to the weekend. Rational to seek refuge until solitude. Logical to feel as free as they say you have to feel. A logic that was only sustained under the television amplification of that time has ended up in our pockets in the form of a superficial but intelligent screen: the smartphone.
In 1991′ Snow Crash' was published, where the Metaverse was named. Around the same time, the manga' Ghost in the Shell' is issued, and the film 'Strange Days' by Bigelow is released almost at the same time as the first excellent reality show of the 90s: 'COPS,' to end the decade with the most transparent meta version approach: 'Matrix.' 
Many of these milestones gave continuity to the dystopian cyberpunk so standard now via Netflix. They longed for us to become "homocybers" as a natural evolutionary step to homo-sapiens or homo-Ludens. Now we are Avatars even if we don't want to accept it, and it's similar to being a homocyberg. And we are avatars without even knowing it because the platforms have our live data thanks to mobile phones. It is a fact, and we are sensors.
However, I believe that part of the success of the Metaverse is conditioned to finding the refuge we seek in being an avatar. Staying far from neurotics, biases, rules, limits, our perspective, categorical imperatives, imposed ethics and collateral damage, noise, and empty messages. And that refuge the Metaverse does not promise to offer, at least at first.
In the Metaverse, we will only have to decide. There will be nothing to do, reason, and learn except what is right to choose. Video games are like: an exercise in micro-decision-making skills that has been enriched and spread with the arrival of massive multi-platform experiences like World of Warcraft, which are the closest thing to an ideal Metaverse. A faithful community and a mental refuge even if it disconnects from reality.
In short, a place where we only have to make decisions, where our attention will not be required anymore, and we will be able to breathe blankly because we will forget the consequences of our actions, after all, everything can start over: we have to restart or insert coin.
Is this the Metaverse?
The Metaverse has the ballots of being the penultimate Utopia with a pyramidal charge. Now it is an exponential globe that will end up running into its worst enemy: sustainability, be it economic, mental, technical, global, environmental, or cultural. It seems more like the dream of a teenager from the 90s who plays with the telephone to connect to Arpanet than a reality that can serve as a refuge (except for a part of the population that by default already lives unconnected). Loneliness as an endemic evil reaches strange heights through this immersive parallel world project that right now is pure financial speculation.
Another day talking with an expert gentleman consultant in medical hospitality, the conversation began by alluding to the famous "hoax" of the future European electrical blackout in front of the fireworks of the Metaverse.
And the blackout, I frame it in the credible. He prepared it for the most significant challenge we have in the coming years, whether we like it. And it's not like people will disappear into a virtual world. The challenge is cyber-security, as it is. Avoid a dependency on automation and virtuality born of savings and efficiencies. Prevent the direction of behaviors from the data. Avoid a fall into the darkest pit. Let's think about what would happen today if someone caused a big blackout or slipped like a digital twin into "our lives." Then the Metaverse would be a nightmare for users already in need and a fraudulent anecdote for investors… That's almost certain.
Also Read : Ten Keys For Communication To Be a Real Growth Lever For Companies