Business Startup – 8 Steps To Your Own Company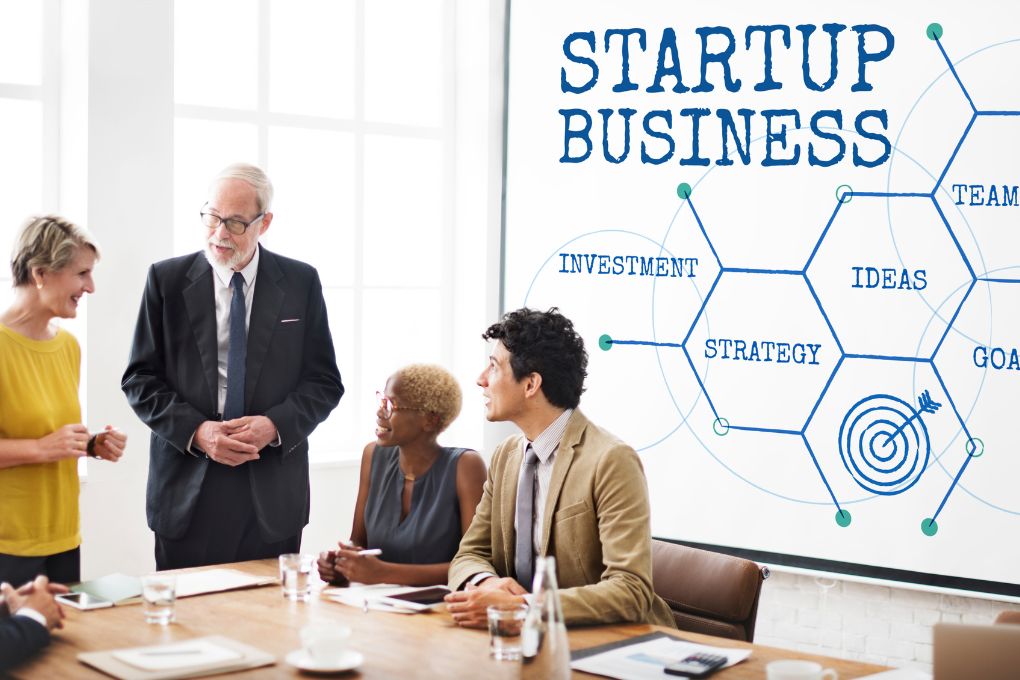 Starting your own company – the road from your own idea to the actual business is long and involves a lot of bureaucracy.
In this article you will find out which individual steps your business startup will go through until the longed-for day.
Step 1: The business idea
In the beginning, your business is little more than an idea in your head. Here you are visionary: In your mind you can achieve anything you can dream of.
This first step is often underestimated – far too many founders want to start directly in the business. This enthusiasm is commendable, but not always effective. After all, you don't just want to celebrate your business startup life for a few months, you want to run a successful company in a sustainable way.
It is therefore important to pay attention to the following with your business idea:
Your business idea solves a real problem (of a special target group )
Your business idea suits you and your principles
Your business idea hits a market big enough to make a living from it
Basically, you can dare three ways to your own business idea.
Rely on proven business ideas . From gyms to toothpaste to tables, the list of tried and tested business ideas is endless. If you see yourself here for the future of your startup, you should clarify in advance whether a) the market is oversaturated, b) how you can assert yourself against your competitors and c) what makes your company unique (keyword: unique selling point / USP ) .
Do it again, only better: With an improved business idea . The basic idea here is that you simply copy an existing product or service on the market but solve a problem that needs to be solved even better. Focus on the problem you think you can solve better: What can you remove, add, or change to achieve a better solution?
The supreme discipline: A completely new business idea . Solving a problem for which there is still no solution can also be a risky undertaking: The idea has not yet been tested on the market, and success is uncertain. It is therefore extremely important to a) define the problem and the solution precisely, b) keep a close eye on your target group and c) find out why there is no solution yet.
Step 2: Write a business plan
Preparation is the be-all and end-all: In order to get your startup rolling, you have to draw up a business plan for future financing, for example through business angels .
Planning in detail can open your eyes to many aspects. Sometimes a founder is not quite sure whether the business idea is theoretically feasible at all. The individual milestones are set in the business plan. It is crystallized out which experts are needed and how many employees have to be recruited.
The business plan includes:
The executive summary
Presentation of the founder or the founding team
The business idea
An analysis of the market and competition
Corporate goals and strategy
marketing
Organisation, legal form and personnel
financial plan
SWOT Analysis: Strengths, Weaknesses, Opportunities and Threats
Step 3: Finances
By creating your financial plan, you can see how much capital you will need initially and how much you can ultimately generate in the early stages of your business.
Do you have enough equity to implement your project with bootstrapping ? Or do you rely on business angels ? Would you rather go public and try your hand at the lion's den ?
The step-by-step calculation of the finances looks like this:
Costs before and during founding . This means the amount of start-up costs and investments. Does an office have to be rented? Which employees are needed from day 1?
Estimated Sales . How is the sales of your business startup developing? When can you expect the first sales and how high will they be?
Costs after incorporation . Current income is not possible without current outcome: operating costs, entrepreneur's wages and other variable costs must be taken into account. This then shows how much capital you need to launch your startup.
total capital requirements . How do your expenses compare to your income and how much do you need to be able to budget? Planning a buffer here makes sense! Otherwise, liquidity bottlenecks during ongoing operations can prevent your progress.
Financing of capital requirements . How are you going to raise the money you need? Do you want to go the route of external capital, such as a loan, investors or government subsidies? Or do you have what it takes to be a bootstrapper?
profitability . This is particularly interesting for investors who have the success of your startup in mind. Is your concept worth it? Prove you can make it big!
Be self-employed without equity
Many entrepreneurs have proven that equity is not absolutely necessary to make your own business idea a great success.
You can do that too!
Alternative options are:
Decide on a business model that does not cost much to implement and operate, such as your own online shop.
Convince financiers such as business angels and investors of your business idea.
Use a loan for start-ups (there is a state development loan as well as online loans and classic loans from your house bank)
Participate in start-up competitions where you can benefit from money, expert knowledge or at least additional attention.
Step 4: Legal form & trademark rights
It is important to think about the legal form your business startup is going to take early on. The legal framework largely determines whether your startup will later become a castle or a coliseum, a villa or a log cabin. If your business idea and you as the founder are the foundation of your startup, the legal form is the framework that determines how you can build yourself up.
Of course, you can still change the legal form later on. Around 80 percent of founders in Germany start with a sole proprietorship. This is uncomplicated and can also be implemented without a large capital investment.
Brief overview of the legal forms in Germany
GmbH: Requires at least 1 founder and 25,000 euros share capital. Liability is limited to the company's assets.
UG: Requires at least 1 founder and 1 euro per shareholder as share capital. Liability is limited to the company's assets.
Sole proprietorship: Requires 1 founder and no share capital. Liability is unlimited.
GbR: Requires at least 2 founders and no share capital. Liability is unlimited.
costs of the legal forms
Depending on the legal form, you will incur other costs.
If you start with a sole proprietorship, all you have to do is register your business. Here you can count on 30 to 40 euros.
When founding a UG, there are also notary costs, which depend on the number of shareholders and the amount of your share capital. In addition, there is the registration in the commercial register: This starts at 150 euros and upwards.
The GmbH goes one better: At least 12,500 euros of the 25,000 euros share capital must be paid in immediately.
The baptism of your startup: name and trademark rights
Your business startup name needs to be both catchy and reflective of your product/service. It should not be protected by other companies.
This is possible online, for example, on the website of the German Patent and Trademark Office
Step 5: Registration of your startup and approvals
You have designed your business idea, created a business plan and also calculated the finances, decided on a legal form and a name. Time to make it official: You can now register your startup with various authorities.
Depending on the professional field, however, there are some permits or certificates that must be presented when registering the business. For example, you have to show a health certificate to start a catering business or a corresponding master craftsman's title.
It is best to find out in advance from your IHK/HWK whether you need a business license or special permits.
Register your company: brief overview of the authorities
Depending on the legal form, there are other authorities that are essential for your foundation.
Commercial register – for the GmbH
Trade office – for the GmbH, sole proprietorships and GbR
Tax office – for the GmbH, sole proprietorships and GbR, freelancers
IHK/HWK – for GmbH, sole proprietorship and GbR
Professional association – for the GmbH, sole proprietorships and GbR
Step 6: Business Account and Taxes
Depending on the type of company, professional group, industry, size and type of business, a different account suits you and your needs. It is required by law if your startup is registered as a GmbH, UG, AG or limited partnership. You can find out more about the legal background here .
Well-known banks are for example: N26 , Penta , Holvi , Fidor , Kontist , Fyrst , Netbank as well as miles & more . For a complete overview and comparison, see the article on the perfect account for founders .
But your money doesn't just go into the account – you also have to reckon with taxes, of course:
Income tax : You pay income tax on your profits if your company is one of the legal forms of partnerships and sole proprietorships.
Corporations give the so-called instead of income tax. corporation tax.
Trade tax : Trade tax is also added for all commercial operations. Partnerships and sole proprietorships can look forward to an exemption when collecting trade tax.
Sales tax : All companies have to pay sales tax on deliveries and services. The sales tax or input tax already paid can be offset against the sales tax. This is referred to as a pre-tax deduction. The small business regulation supports companies with low sales: they no longer have to report sales tax.
Taxation of employees' wages : Once your company employs employees, you have to pay taxes on them as well.
Step 7: Choice of location
Now it's getting concrete! Once all the paperwork is done, you can start thinking about the location of your startup if you haven't already. Depending on your company's industry, it makes more or less sense to carry out a detailed location analysis.
For example, if you are involved with an online shop, the location of your laptop from which you work plays a rather minor role (unless we go into WLAN conditions and working atmosphere). Otherwise, factors such as the catchment area, competition, purchasing power, passing trade, parking options/accessibility, rental prices, access to suppliers, purchase prices, transport routes, etc. can have a decisive impact on the success of your company.
Virtual location: Facebook, Instagram & Co.
Of course, the location goes beyond offline: In the 21st century, you should of course also approach your casual customers via Google and Amazon as well as social media (Facebook, Instagram, Twitter, Pinterest, TikTok & Co.).
Find out which social media your target group is on and focus on connecting your startup on the respective platform accordingly.
Step 8: Marketing – corporate identity and customer acquisition
Marketing should not be underestimated. No matter how outstanding your product or service may be, if nobody knows about it, nobody will buy it. Marketing trends are constantly changing – online marketing has become indispensable.
Advertising, placing in search engines like Google and preparing to drum up loud for your startup for quite a while – that should be the focus here. 
The corporate identity of your startup
The recognition value of your company is important to keep your customer base and to spread you "on everyone's lips".
This includes logo, website, business cards, stationery and much more. This step should not be underestimated, because if nobody can remember your product / service or your brand, it can also be due to a poorly thought-out external appearance.
Also Read : 4 Features That The Best Mirrorless Cameras Have
About Author